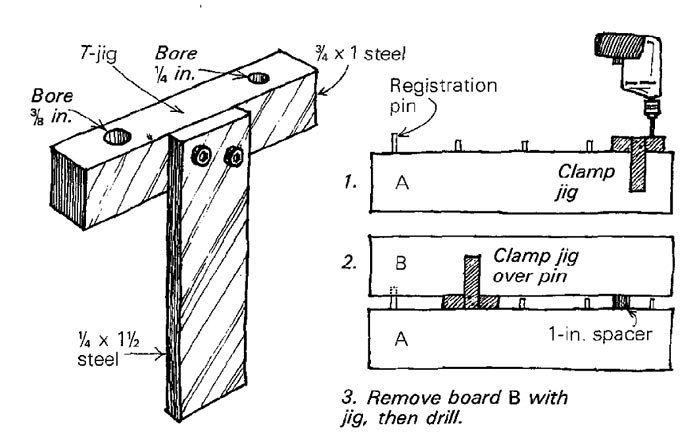 A T-jig, used in doweling edge joints, ensures alignment of dowel pins and holes. Boards joined with the jig will mate better on the finish side, and sanding or planing misaligned joints is virtually eliminated. The jig's bar and leg are made of steel. High-carbon steel is best (anneal for machining, then harden later), but cold-rolled, mild steel will do. Wood will wear too fast. Drill common-dowel-size holes (1/4 in. and 3/8 in.) in the center of the 3/4-in. bar on each side of the leg. Two Allen-head machine screws secure the leg to the bar.
In use, the T-jig serves as both a gauge (all the pin holes are equidistant from the face) and a copier (all the pin holes are mated from one edge to the other). First use the jig to drill all the pin holes in board A. Clamp the leg of the jig to the face of the board. No exact measurement of pin locations is needed the holes in board B will be copied from the pins in board A. Install an extra-long registration pin in the first hole and regular-length pins in all the other holes.
Now clamp the jig to board B (leg to face) and drill the registration pin hole. Place the T-jig over one of the regular length pins on board A, leg up, and fit the registration hole over the registration pin. Clamp the jig in place on board B, remove the board and drill. Repeat this operation for each pin in turn. Cut and use 1-in. spacer blocks to aid the pin-copying process.
After all the holes are drilled, trim the registration pin to size, spread glue on the joint and press the boards together, keeping the ends even as the boards go together.
Wallace Smith, Newport Beach, Calif.
Fine Woodworking Magazine, June 1980 No. 22