Woodhaven - Deluxe Protractor-Style Miter Gauge
Woodhaven's Deluxe miter gauge features a variety of set stops and fence accessories.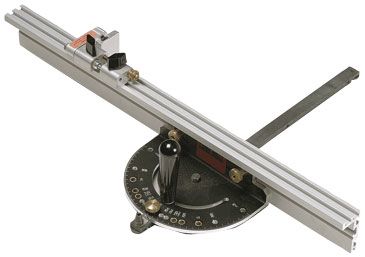 The Woodhaven Deluxe is sold through mail-order companies as simply a "deluxe miter gauge." I tested it with its optional fence and stop, sold as a package by Woodhaven. Accurate out of the box, the Woodhaven has a 24-in.-long sliding aluminum fence extrusion attached to the head via T-slots, allowing it to slide close to the blade. The L-shaped flip stop has a micro-adjuster, which was solid with no play. The steel guide bar supplied has four adjustable graphite plugs; they wore faster than other adjusters, but readjustment took less than a minute.