Oneida - Cyclone Collector
The 1 1/5 hp Oneida cyclone dust colletor features an exposed filter for easy clean up without disassembling the unit.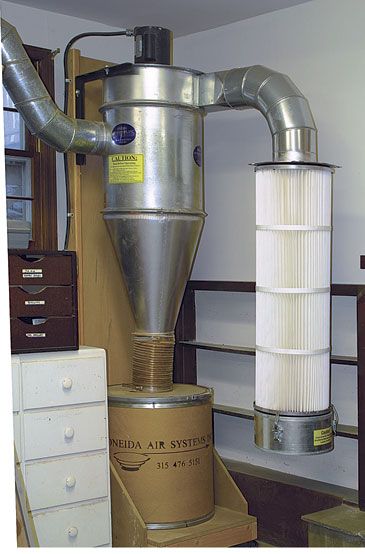 I've been happy with the Oneida Air Systems 1 1/2-hp cyclone dust collector I bought several years ago, except when it comes time to clean the standard internal-cartridge air filter. That task requires the cyclone to be partially dismantled and the air filter taken outside to be blasted with compressed air, a messy and time-consuming chore.
Oneida has solved that issue with a new, exposed filter. I tried the new setup, retrofitting the external components to my older-style system. The new filter is larger than the old one, so you probably can go longer between cleanings. But what's really great is that cleanup involves simply blowing compressed air across the exterior of the now-exposed cartridge, without the need for disassembly. Once the dust inside the cartridge settles, it is removed via a detachable dustpan.
The retrofit kit, which attaches to the exhaust port of the collector, has a side benefit in that it reduces the noise level. For 1 1/2-hp dust collectors, the kit costs $234 elbow and square-to-round connector are extra. (If you buy a new collector and choose this option, the cost is slightly less.)