CMT - Crown Molding Cutter and Router Bits
A cutter specifically for making crown molding design in collaboration with CMT and furnituremaker Lonnie Bird.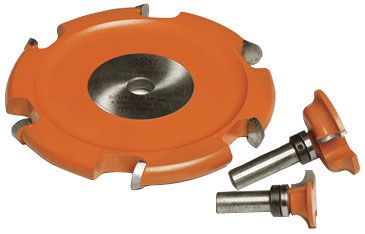 Finding the perfect crown molding isn't easy. Commercial stock tends to be available in a limited number of sizes and profiles. If you are lucky enough to find the right size and shape, the stock is likely to be made from maple—when you want mahogany.
That's why many woodworkers end up using the tablesaw to make their own crown molding. The process is basic enough. With the stock well supported by a fence or two, it's run at an angle across the body of the blade, while no more than 1/16 in. of material is removed with each pass. Simply by varying the angle at which the stock meets the blade, you can produce a wide assortment of cove profiles.
But the tablesaw blade isn't designed to cut stock at such an unusual feed angle. The result is a surface that's pretty rough. And smoothing it requires nothing less than a good deal of scraping and sanding.
With all that in mind, woodworker Lonnie Bird and the router-bit outfit CMT got together and designed a cutter specifically for making crown molding. It features a 3/8-in.-thick, 7-in.-dia. steel body with six curved cutting tips.
Using the cutter, I produced a generously sized cove in several lengths of pine and oak, removing no more than the recommended 1/16 in. of stock per pass. I also made the same cove using my carbide-tipped tablesaw blade. When compared, the surfaces produced by the CMT cutter were noticeably smoother than those made on the tablesaw. As a result, I faced considerably less time with my scraper.
In addition to the cove cutter, the CMT set comes with six router bits for use in a router table. Compared with conventional router bits, however, these have profiles that are upside-down. Not only that, the bearing is positioned between the shank of the bit and the cutter, which makes these bits perfectly suited for adding a decorative profile along the edges of the molding.