Compression Chuck for the Lathe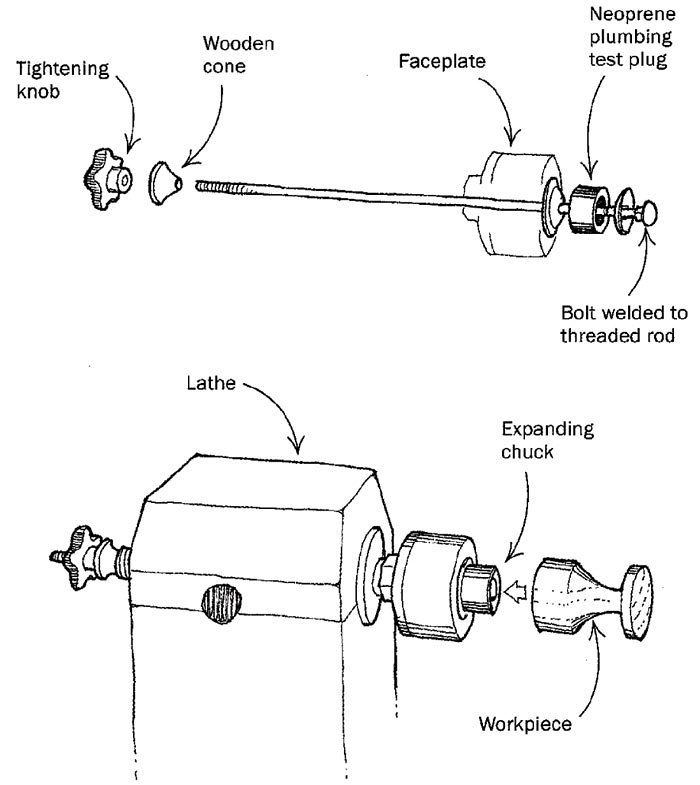 I turn a lot of small candle holders that have a 1-1/2-in. recess in the top for a glass insert. After turning and parting off the holder, I like to reverse-chuck the piece and turn the bottom. The two traditional ways to reverse-chuck a workpiece are either to turn a wooden jam chuck or to use a metal four-jaw chuck. Both ways have problems. The jam chuck must be painstakingly turned to just the right size to work properly. The metal jaws of the four-jaw chuck will invariably mar the already-sanded workpiece.
This compression chuck for reverse chucking solves those problems. It is an adaptation of a plumbing test plug, a rubber expanding device commonly found in hardware stores. Test plugs come in several sizes from 1-1/2 in. dia. to 4 in. dia. to fit the inside of common plumbing pipes. You can also use a rubber expansion plug (also called a freeze plug) found in automotive-parts stores in a number of smaller sizes.
To make this chuck, screw a wooden scrap to a faceplate. Turn the scrap round and square off the face. Center-bore the wooden faceplate to fit the bolt in the test plug. Now remove the bolt from the test plug and extend its length by welding on a threaded rod. The lengthened bolt should extend entirely through the lathe headstock and out the other side by a couple of inches. On the outboard side, add a wooden cone and a threaded knob to tighten the chuck.
To use, turn the top part of the workpiece that includes a recess the same diameter as the chuck. Part the workpiece. Mount the expanding chuck on the headstock and slide the reversed workpiece onto the compression chuck. Bring up the tailstock with a ballbearing center to support the workpiece and hand-rotate the workpiece to see if it is centered. Once the workpiece has been centered, tighten the knob to expand the chuck and create a firm hold. Start the lathe slowly and work up to speed, making sure the workpiece is revolving accurately. You can now turn the bottom of the workpiece with ease.
One word of advice: Be careful not to overtighten the chuck with a thin-walled piece, such as a goblet, because the pressure may split the wood.
James Meier, Batavia, N.Y.
Fine Woodworking Magazine, February 2002 No. 154