Craftsman - 6-in. Variable Speed Bench Grinder No. 21152
Craftsman's variable-speed bench grinder features a slow-speed setting ideal for tool sharpening. Now available as model No. 21154.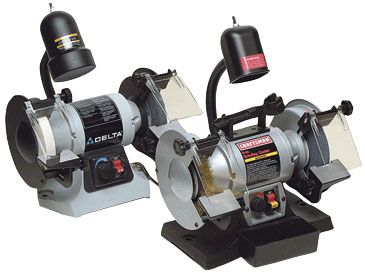 The wheels on most low-cost bench grinders mount to the motor shaft, so the wheels rotate at the same speed as the motor, typically about 3,450 rpm. That one speed is fine for general grinding tasks, but for certain jobs, such as grinding out a nick in the edge on a bench chisel, a delicate touch and slow speed are required to avoid overheating the thin edge of tool steel. If it gets too hot, the steel loses some of its hardness, and you end up with a cutting tool that won't hold an edge for long.
Early last year, both Craftsman and Delta introduced 6-in. variable-speed bench grinders. Simply by turning a dial on these machines, the speed can be adjusted anywhere from 3,450 rpm to 2,000 rpm. At 2,000 rpm, the wheel cuts slower, so it's a little easier to avoid overheating a tool. But if you aren't careful, 2,000 rpm is still fast enough to overheat a thin edge quickly.
Both grinders have 2-amp, 115-volt induction motors that mount to cast-iron bases. The tool rests are also cast iron. The spark arresters and eye shields are nearly identical. And each grinder includes a lamp that accepts a 40-watt bulb.
The Delta, made in China, comes with a pair of 3/4-in.-wide, 60-grit aluminum-oxide wheels: one gray and one white. The gray wheel is intended for general grinding the white one is for edge tools. White aluminum oxide is more friable than gray, which means the grits break away faster, allowing the wheel to cut cooler.
The Craftsman, a Taiwanese product, includes a 3/4-in.-wide, 60-grit, gray aluminum-oxide wheel and a brass wire wheel. If you plan to grind cutting edges, you'll want to have a white wheel at the ready, which can be found at most hardware stores for about $20.
I was unable to bog down either grinder when it was running at full speed, despite bearing abnormally hard against the wheel with a piece of 1-in. angle iron. I did manage to bog down both when run at the lowest speed setting, but only with some extra effort. Both of these machines look to be more than adequate for general grinding and tool sharpening.