Reliant - 6-in. Jointer DD39C
The Reliant 6-in. jointer is no longer available.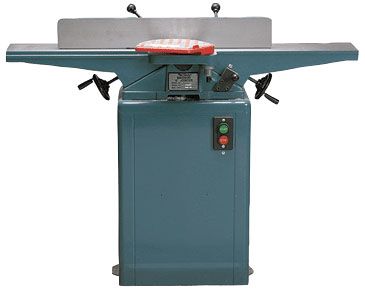 A 6-in. jointer is a good starter size for a workshop, so I chose 11 models to examine, all of which happened to be made in either Taiwan or the People's Republic of China. The only significant differences among them were in the fence designs and the mechanisms by which you raise and lower the infeed and outfeed tables.
With a jointer, you want infeed and outfeed tables that are flat and coplanar to each other, meaning that the tables should run parallel from one end of the machine to the other.  To function properly, the surface of the outfeed table must be flush with the top arc of the knife cut and perfectly parallel to the full width of the knife cut as well as to the surface of the infeed table.
Among these machines, you can choose from four fence designs, my favorite of which is the rack-and-pinion, because adjustments are quick and easy to make, and you can move the fence in and out with one hand.
The Reliant is the least expensive of the jointers surveyed. It is the only machine that does not have jack screws in the cutterhead, which makes knife adjustments more cumbersome. After fiddling with the factory setting of the knives to the outfeed table, however, I got consistently clean and accurate cuts with this machine.