Metabo - 3-in. Right-Angle Random-Orbit Sander SXE400
Metabo's variable-speed random-orbit sander features a right-angle handle and compact 3-in.-dia. sanding disc for sanding in tight places.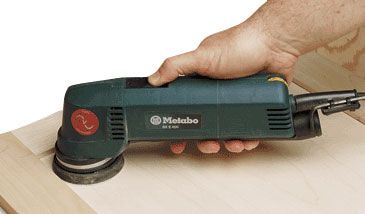 Metabo recently introduced the SXE400, a variable-speed, random-orbit sander with a couple of unusual features. First, a right-angle head puts the motor/handle parallel to the work instead of at a right angle. And second, rather than the 4-in.-dia. or 5-in.-dia. disc, the size found on most random-orbit sanders, this one has a 3-in.-dia. disc.
A hook-and-loop system makes it easy to mount the sandpaper to the disc. And a variable-speed feature allows the sander to run between 5,000 and 10,000 rpm.
The right-angle head and 3-in. disc make the SXE400 a compact tool, roughly the size of a toy train engine. So it's easy to hold, enabling me to sand with one hand while steadying a workpiece with the other. Also, with the smaller disc, and because the right-angle shape puts my hand close to the workpiece, the SXE400 allows concentrated, aggressive sanding. And it can be handy for getting into inside corners or other hard-to-reach areas.
While it doesn't fully replace my need for a 5-in. or 6-in. random-orbit sander, I think the Metabo SXE400 can be a valuable companion.