Built-ins that Blend In
Design kitchens that complement older homes without being tied to tradition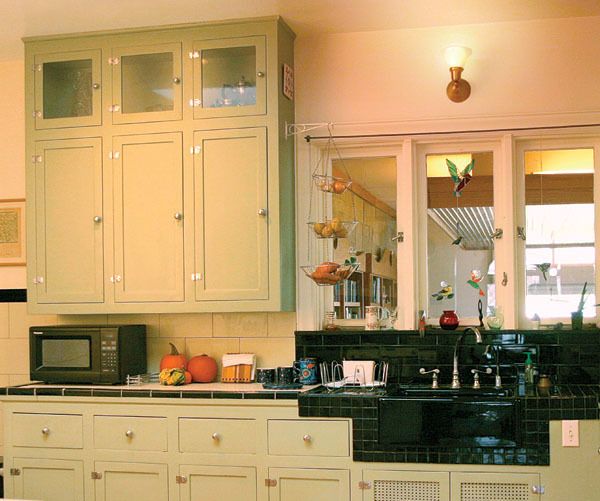 Synopsis: When designing kitchen cabinetry for older homes, it pays to pay attention to architectural details. Arts and Crafts-style cabinetry, for example, is typified by frame-and-panel construction and simple details. And while Shaker cabinets also are simple, they have a dramatically different style, from doors and drawers to hardware. At the other end of the spectrum, the built-ins in Victorian homes are notable for their elaborate embellishment, complete with arches, finials, carvings, and other ornate detailing. Nancy Hiller, who designs and builds cabinets for period-style kitchens, shares her expertise for those who want to build new kitchen cabinets that blend gracefully into older homes.
As a designer of cabinetry for period-style kitchens, I specialize in work for clients with homes built in the late 19th and early to mid-20th centuries. People come to me not for strict reproductions, but because they want their kitchen or other cabinetry to fit harmoniously into an older home. Whether I'm adding to existing cabinetry or designing a kitchen from scratch, it pays to follow some basic guidelines. Although the cabinets shown on these pages were built for 19th- and 20th-century homes, the same principles can be applied to other periods.
When designing cabinetry for an older home, familiarize yourself with the house and its architectural details. Ask yourself: When was the house built? What is the architectural style? How are period elements expressed in the original doors, trim, and built-in cabinets? You may be adding to the original cabinetry rather than replacing cabinets added at a later time, so the trick is to tie in the new with the old. Clients often ask me to design cabinets that will look like the rest of their kitchen but will function more practically.
Consider raising the height of the counters
Old kitchens have counters that would be considered backbreakingly low by contemporary standards—usually 32 in. above the finished floor. While this may be fine for kneading bread dough or rolling pastry, it's terribly uncomfortable for most of us, when washing dishes and preparing food. Even if you leave existing base cabinets at their original height (and sometimes they are well worth preserving, restoring their tiled or linoleum countertops as needed), consider making new base cabinets with today's standard height of 36 in. or even 38 in. Although it may sound tall, a 38-in.-high countertop feels great for many kitchen tasks.
The upper cabinets in most old kitchens were built right up to the ceiling, not stopped a foot short as often is the case today. This applies as well to rooms with 10-ft. ceilings as to those with ceilings at 8 ft., and it's a great way to maximize storage space. So what if you can't reach up there without a ladder?
From Fine Woodworking #179
For the full article, download the PDF below:
View PDF