Roarockit Skateboard Company - Vacuum Press
This simple hand-pump vacuum bag creates enough suction to effectively clamp veneer to a form.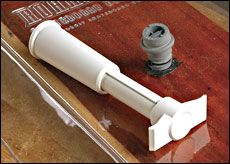 The Thin Air Press opens the door to vacuum veneering for the woodworker who can't afford the relatively high cost of a conventional compressor-driven vacuum press. This simple system, made by the Roarockit Skateboard Co., uses a vinyl bag with a one-way valve and a hand pump to draw a vacuum.  I used the press to veneer both flat and curved parts and was impressed with its simplicity and performance. I tried both the 13 1/2-in. by 47-in. and the optional 26-in. by 28-in. bags.  The company claims that the pump will pull about 15 psi. I found that the vacuum held overnight, more than enough time for most glues to set.  For more information, visit the manufacturer's Web site: www.roarockit.com.
—Anatole Burkin is the editor.