Black & Decker - Mega Mouse Sander
The Mega Mouse is a finish sander, detail sander, random-orbit sander, and random-orbit polisher in one compact unit.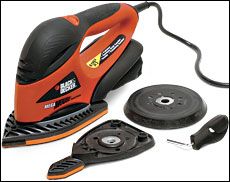 Black & Decker's 1.4-amp Mega Mouse sander/polisher comes in a carrying case with three attachments. The most useful for woodworkers is a 5-in.-dia. circular hook-and-loop pad for random-orbit sanding, which accepts sanding disks of any hole pattern. Faced with a different task, you can use the hex wrench to switch to a narrow finger attachment for detail work, or a clothes-iron-shaped pad for orbital sanding. Both of these options, however, require Black & Decker specialty sandpaper. The Mega Mouse can't compete with high-end machines for continuous, heavy-duty work, but if you want these options without spending a lot of money—and you don't expect good dust collection—this tool is worth a try. 
—Andy Beasley is a retired U.S. Air Force instructor pilot who now spends his time working on his house near Hillside, Colo.