Pajo Inc. - Dust Mask
An effective, reusable dust mask that can last through many washings.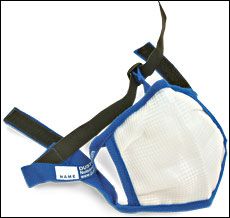 The Dust Bee Gone nuisance dust mask attempts to dethrone those disposable masks that so many of us reach for when the air gets unhealthy. It looks and fits just like a surgeon's mask, with straps that adjust easily and are fastened behind the head and neck. A thin wire closes the nose area tightly to prevent eyeglasses from fogging up. The layered fabric is soft and comfortable, rated to particles as small as 3 microns. To clean the mask, simply wash it in warm, soapy water, rinse, and dry it by twirling it around your head like a lasso. The $34.95 price tag might seem steep, but with proper care it will work much better and last longer than several boxes of disposable masks. 
—Mark Edmundson builds custom furniture at his shop in Sandpoint, Idaho.