Choosing and Using a Scroll Saw
Midrange models offer a wide range of capabilities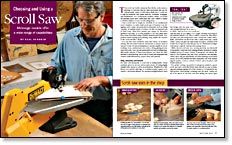 Synopsis: Scroll saws are not just for hobbyists who make fretwork, bookends, and knickknacks. Professional furniture maker Paul Schürch uses his to rough out dovetails, cut mortise-and-tenon templates, make furniture mock-ups, and for specialized inlay and marquetry cuts. In this product overview, he explains how to set up and use a scroll saw. He also reviews five midrange saws: The Delta 40-680, DeWalt DW788, Dremel 1800 Scroll Station, Grizzly G0537, and PS Wood Machines 21-in. saw.
The scroll saw holds extremely fine blades under tension, allowing it to do jobs that no other motorized saw can do. Unfortunately, many woodworkers think that a scroll saw is only for hobbyists who make fretwork, bookends, whirligigs, and knickknacks. As a professional furniture maker, I've found the machine much more useful than that, and I believe it makes a valuable addition to any woodworking shop.
I use a scroll saw to rough out dovetails, to cut mortise-andtenon templates, to make small mock-ups of furniture I am designing, and to make cuts particular to marquetry, such as cutting "packets" of multiple layers of veneer. I've also cut material such as shell, bone, sheet brass, pewter, and copper for decorative hardware and inlay. It is even possible to cut 1⁄8-in.-thick glass for a curvy door panel using a barbed diamond-wire blade, or to perform detail sanding and polishing using small belts attached to the scroll saw like a blade.
It is true that most scroll-saw users don't focus on furniture making. But decorative fretwork and intarsia (a picture made of various woods, of various thicknesses) certainly qualify as woodworking. Some professionals also make a living gluing pictures onto seven-ply, 1⁄4-in. aircraft-grade plywood and scrolling beautiful puzzle patterns. If these areas interest you, there are clubs devoted to scroll-sawing, and scores of books and magazines that contain useful information, project ideas, and patterns.
Inlay, marquetry, and beyond
For inlay and marquetry, a scroll saw is indispensable. These machines give you an easy and accurate means of cutting highly detailed inlay pieces to add to your furniture. Whether it's a bellflower on a period table leg, or a mother-of-pearl square to be used as a decorative element, the process is straightforward. Draw the design onto the inlay material—usually between 1⁄16 in. and 1⁄4 in. thick—and cut it out on a scroll saw with the table set at a slight 2° to 4° angle, beveling each edge of the material inward a bit. This is called a conical cut. Then place the inlay onto the background, scribe around the outline with a knife, and hollow out the recess with a small router and a small chisel. Clamp and glue the inlay firmly into place, and then level it with the background after the glue has set. The bevel-cut edges will ensure a tight fit with the surrounding wood.
With a decent scroll saw, you can step past inlay into the world of marquetry, which involves making detailed pictures by joining multiple pieces of veneer. Panels of marquetry can elevate the look of your furniture and case work. Except for one machine, which takes only pin-style blades, all of the midrange saws tested on pp. 60-61 will perform the basic marquetry cuts well, including the packet, contour, conical, window, piece-by-piece, and boulle methods.
From Fine Woodworking #177
For the full article, download the PDF below:
View PDF