Barr Specialty Tools - Scorp
This scorp made by Barr Specialty Tools features a 6-1/2-in.-dia. half-round blade.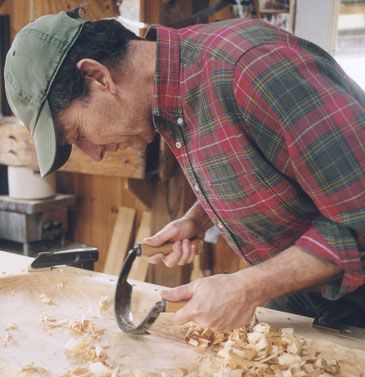 Hollowing out the seat of a wooden chair can be either a pleasurable pastime or a chore. A good cutting tool can go a long way toward ensuring the former.
For many years and hundreds of chair seats, I've used an old drawknife bent into a U-shape. The corners of the drawknife enable aggressive cuts, and the straight area between the corners lends itself to making smooth, flat cuts.
So when a scorp made by Barr Specialty Tools arrived in my shop, I was automatically biased against its half-circle shape. However, one chair seat and three settee seats later, I had to admit that my U-shaped tool and Barr's 6-1/2-in.-dia. half-round version didn't cut much differently.
Plus, the new scorp has several advantages over my old standby. It's heavier, so the blade is less likely to chatter when cutting. Also, the blade is made from high-quality steel. After doing work that would have required two sharpenings of my tool, the Barr was still cutting fine.
Out of the box, the scorp was sharp and ready to cut. It came with a knife edge, which means it had a convex bevel on both sides of the blade. A convex bevel on the outside edge was a plus, as the blade exited the cut easier. On the inside of the blade, that bevel had no cutting advantage or disadvantage, but it did make sharpening more difficult.
At $125, this scorp is reasonably priced.