Woodhaven - Standard Protractor-Style Miter Gauge
Woodhaven's standard no-frills miter gauge features set stops at 90º and 45º.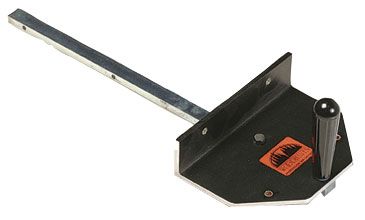 Woodhaven's standard gauge is similar to the AngleWright, with a nearly identical head assembly. Its head is slightly larger than that on the AngleWright, and it was machined flat and square. The Woodhaven gauge uses four graphite plugs to adjust the bar for a tight fit in the miter slot, like the Woodhaven Deluxe. Both the AngleWright and Woodhaven standard models made perfect cuts right out of the box, but with its lower price tag, the Woodhaven has a slight edge.