Rock-Solid Workbench
Ready-made hardware simplifies end-vise construction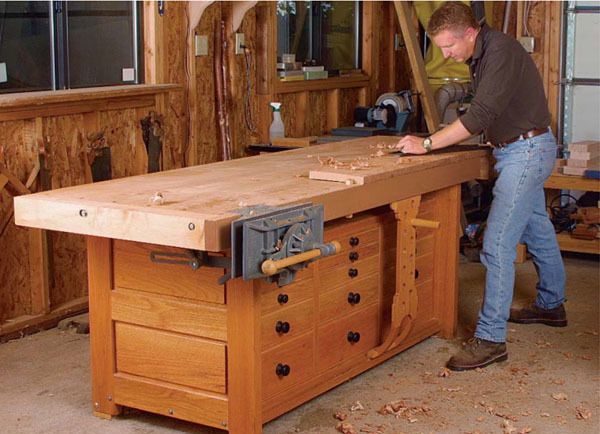 Synopsis: An end vise makes a workbench more user friendly, and exact plans and step-by-step instructions help you build one for yourself. Whether you build a workbench using the detailed project plan or add an end vise to an existing bench, this article walks you through the building process. A source guide identifies and evaluates materials needed.
From Fine Woodworking #162
I knew that when I eventually got around to building my dream workbench, it would have to meet a few basic requirements. It would have to be sturdy enough to last a few lifetimes. It would have to have storage underneath. And it would have to have good front and end vises so that I wouldn't have to do a lot to get a workpiece held securely.
In 1998, I finally built my bench. And I'm pleased to say that after five years of heavy work, it has fulfilled my expectations, and then some. It's rock solid and has plenty of useful storage, thanks to 15 drawers and an area of open space between the base and the top.
Building such a large workbench can be an intimidating task, but it's actually basic woodworking. The only parts of the bench that call for anything other than straightforward biscuit and mortise-and-tenon joinery is the end vise. Whether you decide to build this bench using the foldout plans or add the end vise to a bench you already have, this article walks you through the process.
The front and end vises, along with benchdogs and a board jack, offer plenty of clamping options.
In the front of the bench I had planned to use a typical cast-iron vise with wood jaws until I ran across an Internet ad for a used patternmaker's vise, and I couldn't resist the temptation to buy. The vise, built in the 1930s by the Emmert Manufacturing Co., allows me to clamp a workpiece in almost any position. Patternmakers favor this type of vise because it adjusts in several planes, making it possible to hold work of almost any shape. Like me, you'll occasionally see a used Emmert vise offered for sale on the Internet. Also, you can sometimes find them at vintage tool dealers or, more rarely, at flea markets. Expect to pay upwards of $500 for one in good condition.
My vise is one of the larger ones Emmert produced. Modern reproductions of the vise are available in mostly smaller sizes, generally about 15 in. long. Some of these are fairly inexpensive, about $300, and the quality is decent. Higher-quality ones can cost more than $1,000. A sliding board jack helps support long, wide stock, with the front end of the stock held in the Emmert vise.
For the full article, download the PDF below.
View PDF