Crown Tools - Butt Chisel
These short-handled butt chisels feature rosewood handles and Sheffield steel blades.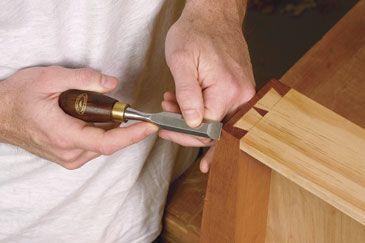 When I started buying hand tools, one of my luckiest finds was a set of butt chisels. Although they're not top-quality tools, they have served me well for a good many years. Their short length makes them easy to handle, allowing for lots of control when paring or chopping. The tools are so useful that I'm always on the lookout for a higher-quality set.
That's why a set of rosewood-handle butt chisels made by Crown Tools of Sheffield, England, caught my eye. Although generally smaller than most butt chisels, they're heftier, with stout shanks and thick blades.
While tuning them up, I found I could flatten the backs of the blades without difficulty. And later, when the chisels were put to work, the steel proved to be surprisingly good—so good, in fact, that they take and hold an edge better than the steel in my vintage Marples cabinetmaker's chisels.
The handles are quite small, which makes these chisels handy for getting into tight spaces. But when I hold the chisels for paring, my hands tend to swallow the handles.
The Crown Tools butt chisels are available in seven sizes (1/4 in. to 1 in.).