Triton - 3-1/4-hp Plunge Router
The Triton plunge router exhibits good workmanship and robust construction.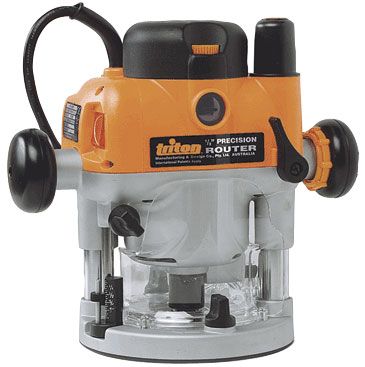 A new 15-amp, 3-1/4-hp, variable-speed (8,000 to 21,000 rpm), soft-start plunge router from Triton Manufacturing and Design of Australia has a number of useful features.
For starters, the depth of cut is easily set by turning a knob on the right side of the router. Fine adjustments are made by turning a small knob at the top of the router. A plunge-lock lever is conveniently located on the motor housing.
A lock on the outside center of the right knob serves to disengage both the rack-and-pinion mechanism and the fine adjuster. When disengaged, the machine operates like a typical plunge router. A standard turret-type stop allows successively deeper cuts.
The on/off control is a robust rocker-type switch with a pilot light that lets you know when the machine is plugged in. The switch is protected from accidental starts by a clear plastic shutter. To start the router you must slide open the shutter and depress the rocker switch, which can be done with the left thumb while still maintaining a firm grip on the handle.
The Triton makes bit changes remarkably simple. When the router is lowered all the way, the collet extends through the opening in the plastic subbase. At this extended position, the shaft automatically locks the spindle, which means the collet requires only a single wrench. Additionally, the shutter over the switch is locked closed, preventing the router from accidentally starting.
All of these features make the Triton router useful in a table. Height adjustments and bit changes are easy. But the feature that makes the Triton especially suitable for a router table is that the return spring—always a nuisance in router-table setups—can be removed simply by loosening a safety screw and twisting a black plastic cap located over the right guidepost.
Through-the-base bit changes allow the plastic guard to be installed so that it encircles the cutter. A dust-extraction port is built into the guard, which worked very well when connected to my shop vacuum.
Included with the machine is a metal subbase that quickly attaches to the router's base. The subbase can be used with a fence (included) or as a circle cutter.
The collet runout on this machine measured 0.003 in. That compares with an average of just under 0.003 in. when Fine Woodworking tested nine 2-hp plunge routers in 2001. Tested for noise levels, the Triton measured 98 decibels (db) compared with an average of 95 db. When it came to vibration, the Triton earned a rating of excellent.
Overall, the Triton router exhibited good workmanship and robust construction. In short, I like it a lot, even at the upscale price of about $330.