Jorgensen - Steel Bar Clamp 4900
This Jorgensen clamp features an extra-deep reach of 9 in.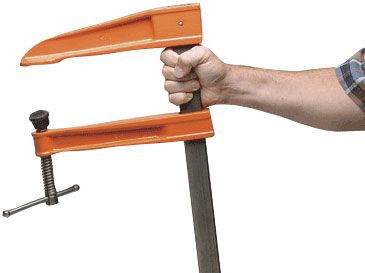 When you need a clamp with an extra-deep reach, the Adjustable Clamp Co., maker of Jorgensen clamps, has one that just might fit your needs. The 4900 series steel clamp has an impressive 9-in. reach (measured from the inside edge of the bar to the centerline of the Acme screwthread). And it can apply up to 1,200 lb. of clamping pressure. Be careful, though, not to drop one on your toes. The 18-in. clamp I tested weighed about 12 lb.
The 4900 series is available in seven lengths: 8 in., 12 in., 18 in., 24 in., 36 in., 48 in., and 60 in. Expect to pay about $70 for an 8-in. clamp and $105 for a 60-in. one.