Ergodyne - Antivibration Gloves Proflex 9015
These flexible anti-vibration gloves are made from pigskin leather and PVC.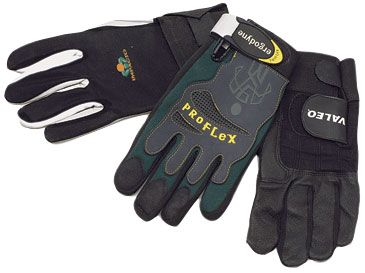 Years of using palm sanders, routers, and other high-vibration tools have resulted in permanent damage to the nerves in the tips of my fingers, causing a constant tingling sensation and slight numbness.
Better late than never, I decided to research vibration-reducing gloves. They're padded with gels, air bladders, elastic polymers, or various types of high-density foams to reduce the effects of vibration.
Although there are a number of manufacturers, I looked at three gloves: the Ergodyne ProFlex 9015, the Impacto Air Glove AIR473, and the Valeo GAFS. Each is full-fingered and padded with antivibration material in the fingers and thumb, vital for protection to the fingertips.
All of the gloves offered good dexterity, but the ProFlex gloves were a bit more flexible and easier to manipulate. The ProFlex and the Valeo gloves stop the padding in the fingers just short of the tips to increase dexterity and offer more sensitivity at the fingertips. But the Air Gloves, with padding all the way to the fingertips, might offer better vibration protection. Another consideration when purchasing gloves is to make sure they are snug; a loose-fitting glove hampers dexterity.
Although there are scientific methods for checking the performance of the antivibration material, I used a fly-by-the-seat-of-the-pants method—my tingling fingers. And as I operated all of the high-vibration tools in my shop, I found a significant reduction in tingle with all of the gloves. Of the three, though, the Air Gloves seemed to demonstrate a bit more vibration absorption.
By the way, don't wear these gloves, or any other type of glove for that matter, while operating tablesaws, jointers, radial-arm saws, or other tools where the glove could easily become entangled with the blade or the cutter.