Sharp and Sharper
Nine honing systems are put to the test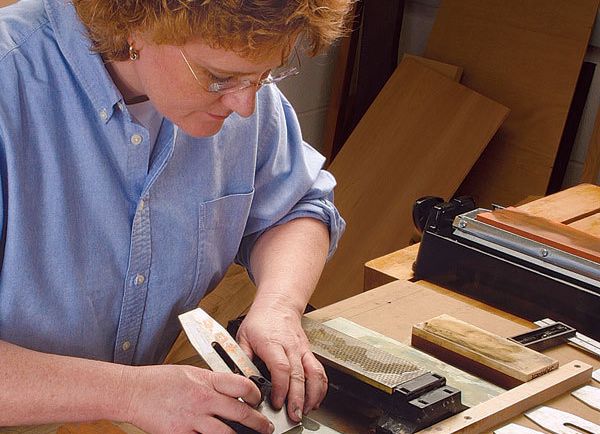 Synopsis: This article compares the attributes of nine common honing systems to determine which method produces the sharpest results: diamond stones, Arkansas stones, wet-or-dry sandpaper, ceramic stones, waterstones, microhoning compound on a leather strop, the Tormek system, and diamond paste on various substrates. After honing a plane blade with each system, author Aimé Ontario Fraser examined the blades for sharpness, performance, and ease of sharpening. The article includes microscopic images of each blade, as well as the author's recommended honing system.
Learning to be a better woodworker means learning to be a better sharpener. That's a simplification, of course, but sharpening is so fundamental to fine woodworking that the two are bound together like a double-wedged through-mortise and tenon glued with epoxy. And just as woodworkers have strong opinions on how to cut, wedge and glue that joint, they have strong opinions about sharpening. Ask six woodworkers about the best way to sharpen, and you'll get at least 10 different answers.
Those varied answers never sat well with me, and I wanted to know what worked best and why. So I undertook an evaluation of the most common methods of sharpening woodworking tools. For this test I focused on plane irons—because it's easy to control conditions and evaluate results when planing—knowing that the bottomline results would be the same for chisels, spokeshaves and other edge tools.
After spending a few months immersed in the subtle art and science of sharpening, I can see why each method has its proponents. Every method I tested produced adequate results—consistent plane shavings and flat surfaces. But some methods are better than others, yielding a superior finish when handplaning, with less effort.
To do these tests, I flattened, polished and honed the plane irons on each abrasive system. I tested diamond stones, Arkansas stones, wet-or-dry sandpaper, various waterstones, micro-honing compound on a leather strop, the Tormek system and diamond paste on various substrates. Then I looked at the blade edges and the abrasives at 700x magnification. I also used the blades in the shop for daily work and in controlled tests. When it was over, I knew sharp—both in theory and in practice. I could see it in a microphotograph, hear it as I worked the irons on the stones and feel it through the plane on tiger maple.
From Fine Woodworking #157
For the full article, download the PDF below:
View PDF