Ridgid - Radial-Arm Saw RS1000
Ridgid no longer produces a radial-arm saw.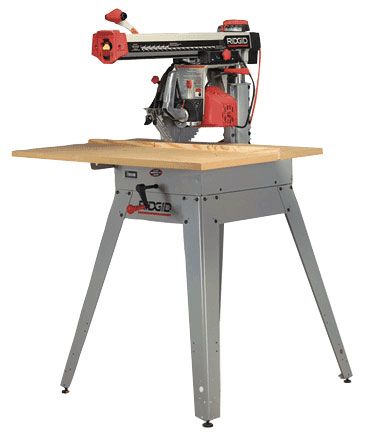 The Ridgid saw, made by the Emerson Electric Co., was the only one that came with a videotape that gives a good overview of putting together and using the machine. Ridgid gets high marks for a clearly worded and printed owner's manual that lays out a step-by-step instruction of assembling the saw and making the myriad adjustments necessary to get it in working order. The instructions more often than not spelled out the why as well as the how to make a given adjustment.
This saw cut through 8/4 lumber and 3/4-in.-thick plywood easily and cleanly with the carbide-tipped blade supplied with the machine. The uniquely designed clear plastic blade guard is activated by a lever attached to the handle on the motor carriage (right), and it takes some getting used to. If you don't pull on the lever, the front of the guard will bind on the back of the fence when you try to pull the saw forward. After I made some crosscuts 90° to the fence, switched the setting to cut some miters, then returned the saw to the original 90° setting, it was cutting about 1/16 in. out of square on an 11-in. width. The automatic brake took an average of five seconds to stop the blade.