Original Saw Co. - Radial-Arm Saw 3512-01 Type III
Original Saw Co.'s radial-arm saw is an industrial-strength tool with a price to match.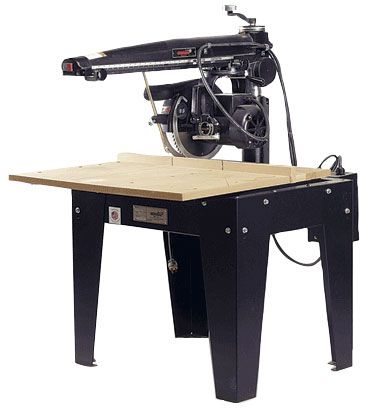 If you have the money and need a radial-arm saw, you can't buy a better-built machine in this. The Original Saw Co. in Britt, Iowa, offers this 12-in. saw as the only size in its class—what they call "contractor duty." Looking at this machine up close, with its cast-iron and cast-aluminum construction on a heavy steel frame, it's hard to believe that you can upgrade to "heavy-duty" and "super-duty" series for 14-in. to 20-in. blade sizes with crosscut capacities of up to 52 in.
Except for hard wiring the magnetic starter and installing the blade guard, this machine was ready to go right out of the crate. As the owner's manual says, this machine "was thoroughly tested, inspected, and accurately adjusted before leaving the factory." And what a great job they did. All of the adjustments were spot on target: the factory settings for 90° and 45° cuts in relation to the fence were dead-on, the blade was square to the table, the tabletop was level and parallel with the yoke travel on the overhead arm, and movement of the roller bearings on the arm tracks was smooth.
The first crosscuts were perfectly square, and the 45° miter cuts proved equally accurate. No matter how many times I moved the arm back and forth, once I locked it in place, the saw cut perfectly square every time. Beefy handles at the column adjust and tighten the arm on the column and keep it there. There's a simply designed, small, adjustable clamp stop for the overhead track to limit the distance of the outward travel from the column—a nice little safety feature that's easy to use. A spring-loaded steel cable returns the carriage assembly to the column when you release your grip on the saw. The loosely mounted aluminum blade guards don't entirely cover the blade, but they would certainly provide a shield from any errant lateral movement of hands that get too close. The automatic brake stopped the blade about seven seconds after switching off the power.