Delta - Radial-Arm Saw 33-830
Delta's only 10-in. radial-arm saw features a cast-iron arm and sheet-steel base.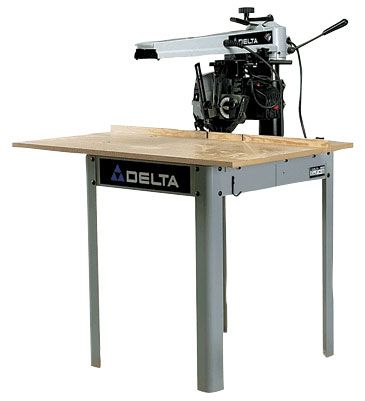 Of the 17 models of radial-arm saws that Delta Machinery offers, this is the only 10-in. version. This saw is priced to compete with the Ridgid and Sears models, and the construction is of a similar quality, though the cast-iron arm and the heavy-duty sheet-steel base make this machine feel more solid. It is fitted with the same motor (made by the Emerson Electric Co.) found on both the Ridgid and Sears saws, and it can be rewired from 120 volts to 240 volts.
This saw cut through 8/4 lumber and 3/4-in.-thick plywood easily, but I noticed some marked tearout on the crosscuts through the face veneer of the plywood. Tweaking the bearing settings on the arm improved the quality of cut.
Changing the blade can be a difficult process. The heavy-duty, all-metal blade guard must be mounted on the motor but not fully fastened in place. As with the blade guards on most of the machines I looked at, what you gain in safety you lose in facility, which, I suppose, is a small price to pay. Rather than being mounted out on the front of the arm, the switch is on the top of the yoke carriage, which makes it hard to see, depending on where you're standing. The automatic brake took an average of eight seconds to bring the blade to a full stop.