Bosch - 3-1/4 hp Plunge Router 1619EVS
This router from Bosch has a smooth, 3-1/4-hp, variable-speed motor with a soft-start feature.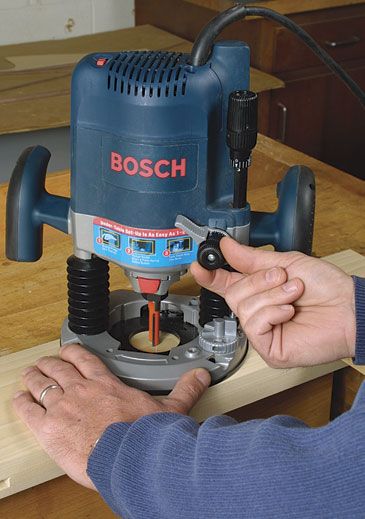 This newest router from Bosch, model 1619EVS, has a smooth, 3-1/4-hp, variable-speed (8,000 rpm to 21,000 rpm) 15-amp motor with a soft-start feature. Weighing in at just under 14 lb., it's hefty but not unmanageable. A one-wrench bit-changing system is a handy feature, and an attachment for dust collection is included.
The plastic subbase has a generous 2-in.-dia. opening. Remove the subbase, and the opening becomes 3-3/4 in., a plus for anyone using extralarge bits.
Runout measured 0.004 in., compared with an average of just under 0.003 in. in tests of nine plunge routers during the last year at Fine Woodworking. The 1619EVS had a noise level of 95 decibels, a bit higher than our average. It scored an excellent rating in our vibration test.
In the area of ergonomics, though, the 1619EVS really shines. For my average-sized hands, the grips and various levers are both convenient and comfortable.
Generally, a plunge router is fussy to use in a router table because it has a spring mechanism designed to plunge the bit down into a workpiece, not up into one. When the router is upside down, you're always fighting the springs. But this router solves that problem. The springs can be disengaged by flipping a lever and pushing a button. Then the coarse and fine adjustment knobs control the bit depth. And reengaging the springs is just as easy.
I like this tool a lot, whether handheld or table-mounted. And I like it even more as a dual-purpose machine.