Delta - 16-in. Lathe 46-745
This general-purpose lathe from Delta features a steel body and 1-1/2 hp motor.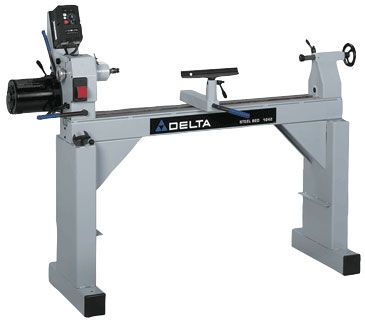 Introduced just last summer, Delta's 46-745 lathe is not only a new model, but it is also a machine with a new look. Instead of a traditional cast-iron bed, the 46-745 has a bed made from steel—not a block of solid steel, mind you, but heavy sheet steel that has been folded and welded to create a sturdy beam.
Made in Tupelo, Miss., the lathe features a 16-in. swing over the bed (11-1/2 in. over the base of the tool rest) and 42 in. between centers. It was delivered in a single box. But don't take that to mean it's a light tool. Indeed, the box weighed about 400 lb., with 100 of them belonging to the bed.
Like the bed of the lathe, the two legs are made from folded sheet steel. As an option, the legs can be filled with dry sand to provide added weight and stability to the lathe, a feature that can come in handy when turning large workpieces. For even more stability, you can extend the length of the feet by slipping a length of 4×4 lumber through each one. Then, screw the 4x4s to the feet. And, if necessary, the 4x4s can be bolted to the floor. However, I didn't need any of those stabilizing options while using the lathe.
I tested the lathe for several months. Also, several members of the Southern Woodturner's Guild in Memphis, Tenn., stopped by to give the tool a workout. All told, the lathe turned about 250 pieces, ranging from bottle stoppers to a 22-in.-dia. platter to a piece of pine that weighed some 55 lb. So I was able to get a good sense of what this machine can do.
Model 46-745 has a 1-1/2-hp, 120-volt, variable-speed reversible motor (made by Baldor) that mounts to a cast-iron headstock. The motor offers three speed ranges (0 to 1,100 rpm, 0 to 2,200 rpm, and 0 to 3,200 rpm), and to change from one range to another is simply a matter of repositioning a single drive belt.
The headstock slides the full length of the bed, which allows outboard turning when you use a floor-standing tool rest or an accessory from Delta.
A touch pad mounted above the motor houses the controls for on/off, reverse, and speed. Some of my fellow guild members questioned the location of the controls. Although convenient, they're in a zone that sees lots of chips and dust. But in the few months I tested the lathe, that wasn't a problem, even though I purposely avoided blowing out or vacuuming the controls.
The lathe has a #2 Morse taper and 1-1/4 in.-8 spindle threads. An adapter, available from Delta as an option, allowed me to use all of my earlier lathe accessories with 1 in.-8 threads.
The locking levers on the headstock, tailstock, and tool rest are large and conveniently located. And they use a push rather than a pull action, which I find easier. Also, large, square locking pads offer lots of bearing surface. As a result, the headstock, tailstock, and tool rest remained firmly anchored in place, even while turning a 55-lb. chunk of pine.
If the motor becomes overloaded, say when a cutting tool catches a turning, the 46-745 has a safety feature that automatically turns off the lathe. That way, there's less chance for the tool to fly out of your hands. Resetting the power is quick and easy.
The live center in the tailstock leaves something to be desired—it overheated and eventually locked up. And the knockout bar is too light. But these are minor concerns when compared to the overall performance of the machine. This lathe is an excellent value.