Holding Your Work
Simple and efficient solutions for keeping your work steady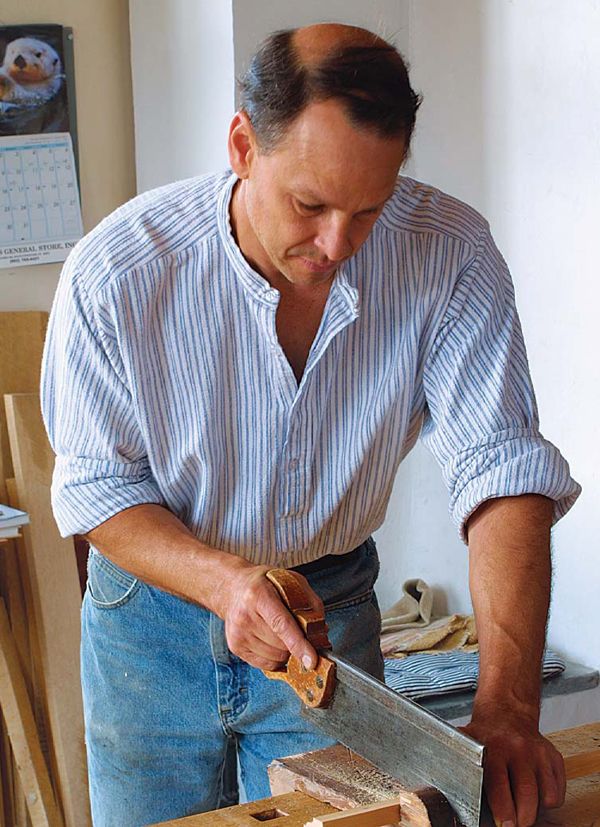 Synopsis: You want to control your tools, not waste your energy on work slipping around. Using a solid, flat workbench, Garrett Hack share some ideas for holding down a workpiece with stops, holdfasts, bench hooks, miter blocks, clamps, and more. The best are quick, positive, and easily put to work. You'll want to see his many detailed tips on how to use them properly.
A good workbench is one of the most important tools in any shop. It doesn't need to be fancy or have vises to be useful, just a nice, flat work surface and a base sturdy and heavy enough to stay put. The challenge then becomes how to hold your work securely and easily, so you can concentrate your energy on controlling your tools, not on work slipping around.
Furniture parts come in a huge variety of sizes and shapes. Take, for example, a chair. To plane the straight seat rails, you must hold them flat on a bench. To shoot their edges you need to support them upright. To shape back legs that are curved, you need a different solution, as you might for carving the crest rail or for holding any of these parts when chopping mortises.
Fortunately, for every kind of holding problem, there are at least a few solutions: stops, holdfasts, bench hooks, miter blocks, clamps and more. The best are quick, positive and easily put to work.
Stops are quick and simple
In an average day, I plane all sorts of parts held flat on my bench. Some are narrow, some wide, some long and some short. By far the simplest way to hold them (and plenty of other pieces that aren't flat) is to use a single, solid stop of some kind.
I use wood stops because they are easy to make and to customize for holding an odd-shaped part, and they won't damage my tools if I run into one. The stop I use most often is a simple hardwood benchdog dropped into one of the holes on my benchtop. While this gives me flexibility in positioning a workpiece anywhere along the bench, a fixed stop either mortised into the benchtop or securely screwed to it can be just as useful in the same situations.
It's ideal to be able to adjust the height of your benchdog just barely above the surface for planing thin drawer sides or sticking out a few inches for larger work. If you mortise a benchdog into your bench, fit it snugly so that it requires only a tap to move it up or down. Because I am often moving my benchdogs (I use them in pairs with my tail vise), I've fitted them with ash springs that keep them in their holes. Lee Valley makes similar brass dogs that drop into round holes easily drilled into a bench.
From Fine Woodworking #155
For the full article, download the PDF below:
View PDF