Bridge City Tool Works - Precision Low-Angle Block Plane
This 12° low-angle block plane features a sole milled from a thick piece of stainless steel and joins to the brass sidewalls with locking dovetails. It also features an adjustable A2 steel blade and throat.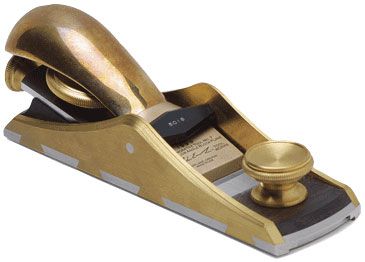 With this tool Bridge City has taken the art of plane making to a new level—a beautiful blend of materials, design, and state-of-the-art technology. The body of the plane was not made from a casting. Instead, Bridge City mills a thick piece of stainless steel into a complex form, including the sole, solid bed, provisions for the blade-depth adjustment, an adjustable throat, and a series of dovetails. The brass sides are connected to the sole with an unusual, interlocking double-dovetail joint. An ebony infill accents the body and the inside of the blade-adjustment knob. The cast-bronze lever cap is polished and secured to the body with a knurled locking wheel and cross pin. All of the knobs are beautifully turned forms that are comfortable to grasp. The depth of cut is controlled with micrometer precision, but the lateral adjustment is minimal, which means great care must be taken when sharpening the blade. The blade is made from A2 steel, cryogenically tempered, then flattened and polished to a mirrorlike finish.
The plane was shipped ready to use. The instruction sheet advises users not to lap the sole, and it was perfectly flat. The blade was razor-sharp and ready to go. Bridge City suggests stropping on canvas or leather to remove the final burr. In a shop, however, preserving the blade's mirrorlike finish could prove tricky, and deburring only on a soft strap would take some practice.
Perhaps this plane was an anomaly, but I had to make a slight modification to get the blade parallel with the sole. The manufacturer assured me that any problems would be corrected by returning the tool. I achieved a temporary fix by rehoning the blade to achieve a parallel alignment.
Put through the paces, the plane performed admirably, and its solid construction translated into solid performance. For those with the means, it would be a source of continual inspiration because of its utility, quality, and beauty.