Mike Dunbar's Workbench
Heavy-duty bench has a wide top, knockdown base and large vises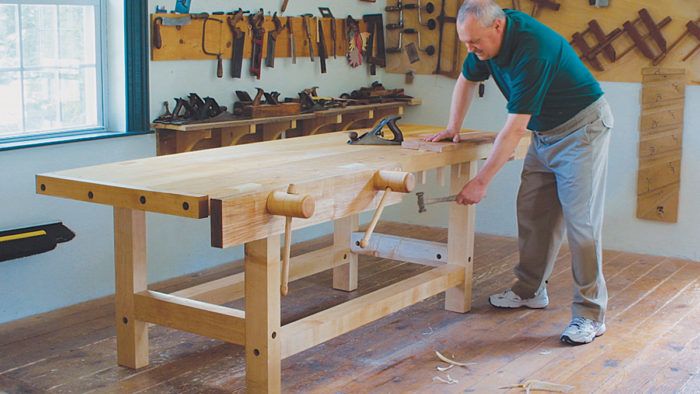 Synopsis: This workbench was styled after one built 200 years ago; it's heavy, solid, and doesn't wobble, though the joints are easy to adjust for seasonal movement. It's equipped with two wooden vises with ample space between their jaws. It does not have a tool tray, so the top is available for assembly as well as woodworking. Building it borders on timber framing, so it's useful to have help nearby for some stages. You'll get dimensioned drawings and clear explanations to help you build the knockdown base, the plank top, and the front and tail vises.
This is my workbench. Two friends and I each made one like it in the mid-1970s, copying a 200-year-old original we found in the basement of an 18th-century mansion. I prefer it to any other design, for several reasons. The bench is a heavy, solid structure. No matter how hard the work, there is no need to hold down this one with sandbags. And its joints don't wobble when I'm handplaning or sawing. If they do loosen because of seasonal movement, a tweak with a bed-bolt wrench makes them rigid again.
The bench's wood vises are very strong. The twin-screw front vise has ample space between the screws, which means I can drop a long, wide part between them. And the jaws are wide enough to hold a 6-ft-long board for edge-jointing without additional support.
The bench does not have a tool tray, leaving its entire wide top available not just for woodworking but also for assembly. When I worked by myself as a professional furniture maker, this bench was all I needed. Finally, I am a woodworker, and a bench made entirely of wood has a deep appeal for me.
Making this bench is more heavy work than it is hard, although the tail vise is somewhat complicated. Many of the parts are so large that joining them borders on timber framing. A second pair of hands comes in handy for some stages on the project.
Some heavy lifting will be required
The bench can be made of just about any type of hardwood. Because this is a workbench, practicality governed my choices. In my region, yellow birch is cheaper than maple but isn't available above 10/4. So I used birch for the 2-in.-thick parts and hard maple for the thicker ones. If you cannot find 12/4 hardwood, you can glue up your stock.
Before cutting any wood, determine what bench height is comfortable for you. When working with hand tools, it is more efficient and easier if you can bring into play all of the larger muscle groups in your body, above all those in your legs and back. Most benches are too high for me, forcing me to work only with my shoulders and arms. I am 5 ft. 9 in. and a little short in the leg. My benchtop is 32 in. high.
Besides wood, you will need to order two other items: -in.-dia. wooden bench screws and threaded blocks, which you can get from Crystal Creek Mill (P.O. Box 41, DeWitt, NY 13214; 315-446- 1229). Mention this project to get the same components I used. The three screw-and-block sets will run you $195.
From Fine Woodworking #153
For the full article, download the PDF below:
View PDF