Low-Angle Block Planes
Eight models on the market are more different than they are similar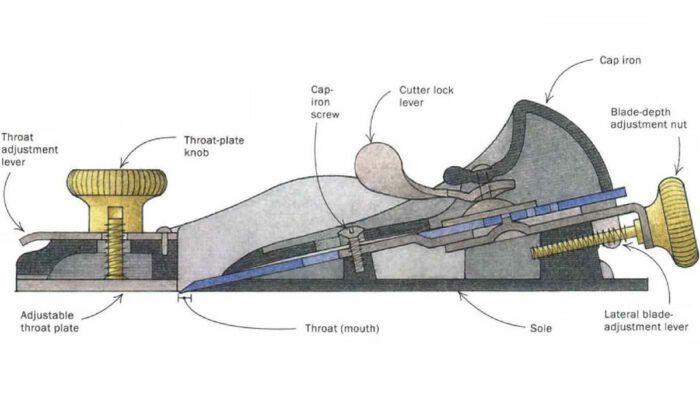 Synopsis: Chris Gochnour walks you through the parts of a low-angle block plane, discusses the differences between it and a standard plane, and evaluates eight models on the market for ergonomics, heft, ease of setup and adjustment. The article also includes tips for peak plane performance.
---
Fifteen years ago, when I was first tooling up my shop, there were only two low-angle block planes on the market: a Stanley and a Record. In the years since then, woodworkers have been treated to a resurgence of high-quality hand tools, including a remarkable variety of low-angle block planes. But because of that diversity, making a choice can be more difficult.
A low-angle block plane is a small, one-handed tool used for trimming and fitting, though more often than not I'm more comfortable using two hands. I often find myself reaching for this handy tool several times a day when I need to plane end grain, cross grain and miters.
A block plane excels at trimming excess material from the pins and tails of through-dovetail joints; fine-tuning miters; perfecting the reveal on cabinet doors; cleaning up saw marks on the ends of tabletops, shelves and panels; and softening the edges of a board. But even though a block plane performs all of those tasks extremely well, its small size limits its use in smoothing larger panels or accurately truing edges. You may also find that the low angle is problematic when planing some long grain surfaces because the blade has a tendency to lift and pry the wood fibers, leaving a rougher surface. A block plane is distinguished by the blade's upward-facing bevel. This contrasts with a bench plane, on which the bevel faces down. To appreciate the difference you must study the geometry of each type of plane. The standard bench plane has the blade bedded at 45°. Because the bevel faces down, changes to the bevel angle of a bench-plane blade have no impact on the cutting an gle of the tool. Low-angle block planes, on the other hand, have the blade bedded at 12° to ° and the bevel angle of the blade at 25° after sharpening (see the drawing on p. 41). The effective angle of the plane is the sum of the bed and bevel angles—37° for the block plane as opposed to 45° for a bench plane.
In addition to the low angle, a block plane has a couple of other features that enable it to work well on challenging tasks such as cutting cross grain and end grain. Because the bevel faces upward, the bed of the plane supports the blade all the way to where it pierces the throat, adding stability to the cut. Also, the angle of the blade is more closely aligned with the force of the cut. These two characteristics make a block plane less prone to chatter.
---
From Fine Woodworking #153
To view the entire article, please click the View PDF button below:
View PDF