Lie-Nielsen - Low-Angle Adjustable-Mouth Block Plane
Lie-Nielsen's take on the Stanley No. 60-1/2 low-angle block plane features a ductile cast-iron body and adjustable throat.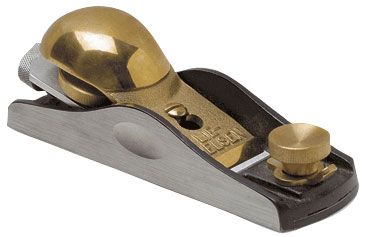 The Stanley Rule & Level Co. introduced the No. 60-1/2 low-angle block plane 100 years ago. Through the last century the tool underwent several changes, but five years ago Lie-Nielsen nearly perfected the original design.
The first thing you notice about this plane is its beautiful blend of materials—iron, bronze and steel in perfect harmony. A closer examination reveals a body made of ductile cast iron. An extralarge bed is precisely machined, providing rock-solid support for the 1/8-in.-thick, high-carbon tool steel blade.
Setting up and adjusting this plane is easy. Loosening the knurled front knob frees the eccentric lever that precisely moves the throat in and out. The depth of cut is regulated by a steel knob that registers in a single slot at the rear of the blade, providing smooth operation with minimal backlash. Even though the tool has no lateral adjuster per se, users can grasp the blade and move it back and forth within the body, as needed.
This plane, as well as the other two Lie-Nielsen planes we reviewed, was nearly ready to go right out of the box. A check with a straightedge confirmed a flat sole. After a few minutes spent tuning up the blade, the tool was in service.
As you might expect, the tool excelled in all of the workstation tests. The polished bronze lever cap felt great in my hand. The solid construction and high-quality materials helped it to handle even the most difficult tasks. The plane was not susceptible to chatter or vibration. Overall, this plane is a great value given the middle-of-the-range price tag.