Freud Inc. - Biscuit Joiner JS102
Freud's JS102 biscuit joiner features a dust collection port and a fence for 0°, 90°, and 45° cutting.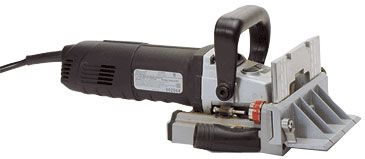 Woodworkers in the market for a biscuit joiner have many models from which to choose, so Fine Woodworking decided to test a dozen of them. Results showed that the features to look for include a comfortable handle; an easy-to-operate switch; an adjustable fence that works smoothly, offers good support, and adjusts for angles you need; a turret stop that adjusts for the biscuit sizes you use; and a grip system that keeps the tool from sliding.
The Freud JS102 had decent numbers in the parallel test. The indent stop at 90°, however, wasn't quite square, and the small adjustable fence was a challenge to keep steady during a cut; it slipped under moderate downward pressure.