Jepson - Biscuit Joiner 7204
Jepson's biscuit joiner has an adjustable handle for working in tight spots and a fence for 0°, 90°, and 45° cutting.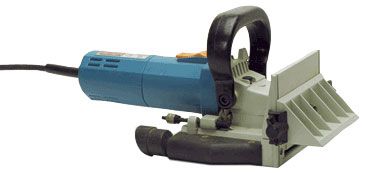 Woodworkers in the market for a biscuit joiner have many models from which to choose, so Fine Woodworking decided to test a dozen of them. Results showed that the features to look for include a comfortable handle; an easy-to-operate switch; an adjustable fence that works smoothly, offers good support, and adjusts for angles you need; a turret stop that adjusts for the biscuit sizes you use; and a grip system that keeps the tool from sliding.
When registering off the base, the Jepson had an excellent result in the parallel test, but when using the fence, results were poor. The small adjustable fence was difficult to keep steady during a cut, and the fence slipped when moderate downward pressure was applied.