Makita - Biscuit Joiner 3901
Makita's biscuit joiner features an adjustable-angle, cast-aluminum fence.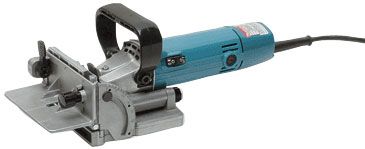 Woodworkers in the market for a biscuit joiner have many models from which to choose, so Fine Woodworking decided to test a dozen of them. Results showed that the features to look for include a comfortable handle; an easy-to-operate switch; an adjustable fence that works smoothly, offers good support, and adjusts for angles you need; a turret stop that adjusts for the biscuit sizes you use; and a grip system that keeps the tool from sliding.
The Makita had an excellent score in the parallel test. The rack-and-pinion fence was easy to adjust, but the fence on the model we tested slipped under moderate pressure until the fence-lock lever was repositioned.