Euro Drill - Euro Drill Boring Jig
The hand-held Euro Drill is designed to accommodate most common hinge patterns.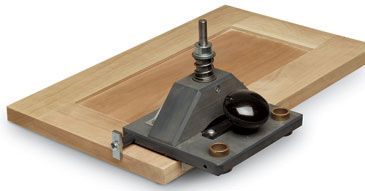 Jigs for drilling cup-hinge holes come in a variety of designs. Some offer stark simplicity at a low cost. Others are more sophisticated and come with a price that reflects that refinement. But all of the jigs have a couple of things in common. They get their power from an electric or cordless drill. And they serve as a surrogate tool for the drill press, supporting the 35mm bit when a drill press can't be used. Without that support, a large bit like this will skitter around the wood. These jigs are especially handy when you're faced with drilling cup-hinge holes in a door that's large and unwieldy, or if you're at a remote site where there's no access to a drill press. We gave seven of these jigs a workout to see how they would perform.
Like the Veritas Hinge-Boring Jig, the Euro Drill is handheld. With a pivoting stop on each side, you can quickly position the center of the hinge at the commonly used dimension of 3-3/4 in. from either end of the door. The depth stop is easy to use. However, the Euro Drill doesn't offer a way to drill pilot holes for the mounting screws.
The chips have a tendency to pack pretty solidly around the Forstner bit, so plan to clean them out after drilling each hole.
This sturdy jig looks like one a professional might have in his toolbox. I just wish there could be a quick way to clamp the jig rather than hold it in place by hand. As was the case with the Veritas jig, the Euro Drill was awkward to hold flat as I drilled.