Blum Inc. - Ecodrill Boring Jig
This jig for drilling European hardware from Blum Inc. is designed only for hinges made by Blum.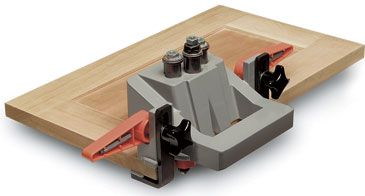 Jigs for drilling cup-hinge holes come in a variety of designs. Some offer stark simplicity at a low cost. Others are more sophisticated and come with a price that reflects that refinement. But all of the jigs have a couple of things in common. They get their power from an electric or cordless drill. And they serve as a surrogate tool for the drill press, supporting the 35mm bit when a drill press can't be used. Without that support, a large bit like this will skitter around the wood. These jigs are especially handy when you're faced with drilling cup-hinge holes in a door that's large and unwieldy, or if you're at a remote site where there's no access to a drill press. We gave seven of these jigs a workout to see how they would perform.
The Ecodrill is designed for use with hinges made by Blum or with other hinges that match the Blum pattern. Mounting holes are 8mm and accept only Blum's Press-In or Expando dowels or Blum's Enserta hinge.
Chuck a Torx driver bit (supplied) into your drill. Slip the bit into a mating nut on the end of the Forstner bit and start drilling. Then do the same for the two pilot holes. You'll need to clean out the chips after drilling the holes.
This jig has adjustable backset stops, which may be set to seven positions. It's also easy to use the clamp. Pivot down the handles, and the jig clamps to the door. This professional-quality jig is a pleasure to use. It sets up quickly and then drills the cup hole and two mounting holes to the correct depths in seconds with little effort. I'd use it even if I had a drill press. You can order the Ecodrill from the Superior Distributing Co. The price includes the Forstner bit and two 8mm bits.