Rockler - Concealed Hinge Jig-It Boring Jig
This low-cost option for drilling concealed cup-hinge holes requires a mounting plate, which is sold separately.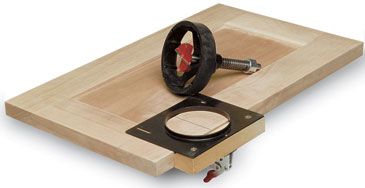 Jigs for drilling cup-hinge holes come in a variety of designs. Some offer stark simplicity at a low cost. Others are more sophisticated and come with a price that reflects that refinement. But all of the jigs have a couple of things in common. They get their power from an electric or cordless drill. And they serve as a surrogate tool for the drill press, supporting the 35mm bit when a drill press can't be used. Without that support, a large bit like this will skitter around the wood. These jigs are especially handy when you're faced with drilling cup-hinge holes in a door that's large and unwieldy, or if you're at a remote site where there's no access to a drill press. We gave seven of these jigs a workout to see how they would perform.
This jig has two main parts: a template (a steel base with a hardwood fence) and a plastic housing that accepts the built-in Forstner bit. The fence maintains an accurate backset. And clamping the jig is quick and easy. The Jig-It doesn't have guide holes for drilling the pilot holes for the mounting screws.
The housing is a nice feature because it helps keep the bit square to the jig as you drill. And because the housing simply lifts off the base after a hole has been bored, the chips don't pack around the bit, a nuisance I ran into with a couple of the other jigs.