Carbide Processors Inc. - Ceramic-Tipped Blades
Carbide Processors Inc. offers its ceramic-tipped blades in sizes ranging from 8 in. dia. to 12 in. dia.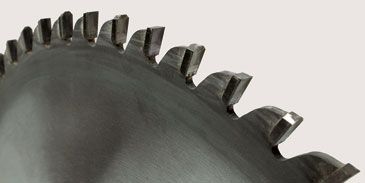 New blade on the block. The manufacturer says ceramic-tipped blades cut faster, quieter and smoother and last longer than carbide tipped blades. But plan to pay about double the carbide price.
Carbide Processors Inc., a company in Tacoma, Wash., is making new ceramic-tipped sawblades that threaten to outshine tungsten-carbide tipped blades. And early reports from the manufacturer indicate that the ceramic blades cut faster, quieter and smoother and last longer than comparable carbide-tipped blades.
The tips are titanium carbonitride—a material made from metal-based ceramics in a metal matrix. Titanium carbonitride is not new. It's been used for years to make metal-cutting tools. But until recently, this technology hadn't been applied to woodworking sawblades because it was much too expensive to attach the tips. The blades aren't a bargain quite yet. Plan to pay roughly double what you'd spend for a top-of the line, carbide-tipped blade.
I recently used a brand-new, 60-tooth, triple-chip grind ceramic blade to make crosscuts in 3/4-in.-thick maple, melamine and medium-density fiberboard (MDF) and also 1 3/4-in.-thick cherry.
The blade cut all of the stock quickly and smoothly. Tearout on the solid stock was minimal, and there was no noticeable chipout on the melamine. However, I was able to make cuts of equal quality with a 40-tooth sawblade made by Forrest (the WW II). So I'd have trouble justifying the extra cost in my home shop. But a commercial shop just might want to look a lot closer at this blade.