Veritas - Chisel Plane
This specialized plane converts a 1-in. wide chisel into a rabbet plane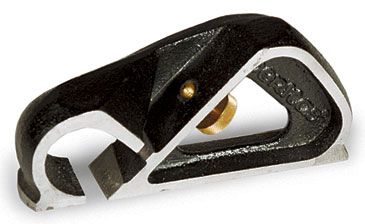 This hybrid plane is well made and useful. It's designed to accept a 1-in. chisel, which serves as a thick, chatter-free plane iron. But avoid using a chisel that's large and bulky, because it could make the plane top-heavy.
Once the chisel is mounted, you end up with a nice shoulder plane or rabbet plane. The tool can also be used to cut a 1-in.-wide dado, up to a depth of 3/8 in. Plus, I can foresee using inexpensive 1-in. chisels here, adapting them for specialty tasks, such as plowing grooves for doing inlay work.
I found the nose of the plane too short for some tasks, like hinge mortising. A second, longer-nosed version would be an ideal companion.
My plane took a little tuning up before it could be used. The sole needed flattening. And the casting had to be reworked slightly so that the chisel would seat properly.
But once tuned, the plane worked very well, holding the chisel firmly in place as I made an assortment of cuts. And adjusting the chisel is easy. To set the depth of cut and lateral alignment, tap the end of the chisel handle with a small hammer.