Spiral Router Bits vs. Straight Router Bits
Can the old standby straight bits compete with the new, more expensive spiral bits?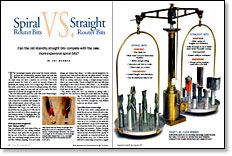 Synopsis: Pat Warner compares the qualities of spiral bits and straight bits. Both have "plunge-ability," but spiral bits leave a cleaner edge; straight bits come in many sizes and bearing configurations. Sharpening spiral bits is difficult, if not impossible, and they can be risky to use. Warner says there's no clear winner; you must pick the best bit for the job, and this article helps clarify which bit is better for different applications. Side information tells you how to distinguish an upcut bit from a downcut bit.
The increasingly popular spiral router bits borrow technology from the metalworking industry. Spiral bits look like drill bits and are most often made of solid carbide, so they are super sharp and leave a superior cut on wood. Two flutes ground around the body of a spiral bit smooth vibration by spreading the cutting action over a longer edge. With their drilllike…
Start your 14-day FREE trial to continue reading this story.