A New Breed of Shaving Horse
A master chairmaker describes how to build this unique woodworking bench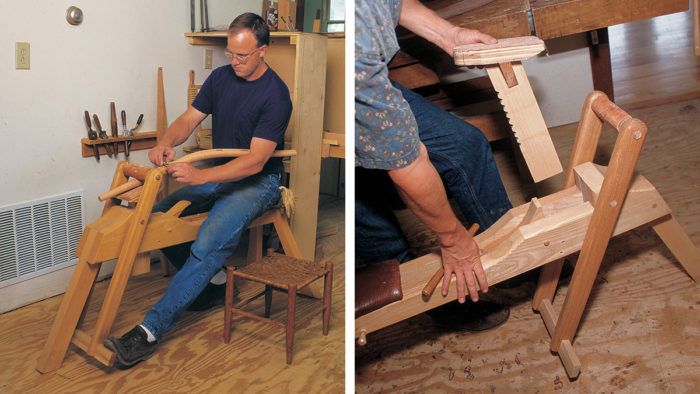 Synopsis: This article includes woodworking plans and expert instruction for building a traditional shaving horse, as described by Kentucky chairmaker Brian Boggs. This full-contact workbench is essentially a foot-operated clamp, designed to carefully grip a workpiece in a variety of orientations so it can be shaped with hand tools. Find easy-to-follow instruction for this chairmaker's companion.
For 15 years I have enjoyed excellent service from my Ulmia cabinetmaker's workbench. It is a massive piece of European beech with enough power to crush most any piece of wood I put in its jaws and enough weight to hold work still for the heaviest planing. But when I want to shape a bent chair leg, I need a lot more holding finesse than any cabinetmaker's bench offers. In fact, any organically shaped workpiece is a challenge for the standard bench, which is why shaving horses are so popular among chair makers.
Most folks think of shaving horses as crude devices useful only for rustic craft. I would have to disagree. A good shaving horse grips a workpiece firmly, releases and readjusts its grip as quickly as you can move your foot and allows more control and sensitivity for holding parts without bruising them than any other clamping system I know.
A shaving horse is basically a foot-operated clamp. The lower jaw supports the workpiece while the upper jaw presses down on it in response to foot pressure. This is an ideal arrangement for working with spokeshaves and drawknives because the harder you pull with the tool, the more pressure you naturally exert with your feet to maintain your balance. And the more pressure you exert with your feet, the more clamping force you exert on the workpiece.
The first horse I made was nailed together from fence planks and modeled on traditional English horses. I've gone through four more since then, modifying the design each time to increase leverage, comfort and versatility. When I injured my back several years ago, the ergonomics and efficiency of the horse became especially important. I researched and experimented with different working positions to find the optimum seat height, seat angle and workpiece elevation, then designed the horse around them.
From Fine Woodworking #139
For the full article, download the PDF below:
View PDF