Makita - Cordless Jigsaw 4332D
Makita offers an 18v version of its cordless jigsaw as model 4334DWD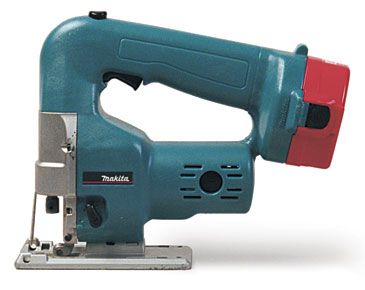 Both DeWalt and Makita are staking their claims to cutting-edge 21st-century technology by offering the latest in cordless tools: jigsaws. The DeWalt DW933K and the Makita 4332D share some common traits: They have variable speed, orbital cutting action, T-slot blade holders, sliding shoes, and they come with one nickel-cadmium (Ni-Cd) battery and charger. The similarities end there.
Makita's 6-1/4-lb. tool is powered by a 14.4-volt battery. To test the run time of the battery, I crosscut slabs of 2×10 Douglas fir planks. It managed 16 cuts.
The Makita's safety-lock button is on top of the handle, just forward of the trigger. To operate the saw, you must keep your thumb on the safety lock. After prolonged use, I practically lost all feeling in my thumb. Additionally, the angled handle flares out at its base, and unless you have gigantic hands, the tail end of the grip is too fat.
The Makita hasn't joined the ranks of saws with toolless adjustments, either. It requires an Allen wrench for changing the blade and for adjusting the angle of the shoe. There is no dust blower, and the bevel-angle indicator is not clearly marked.