Woodworking news — September 19, 2022
A new recipient for the Mineck Fellowhip, a chair design show in Rockport, and new products to be on the lookout for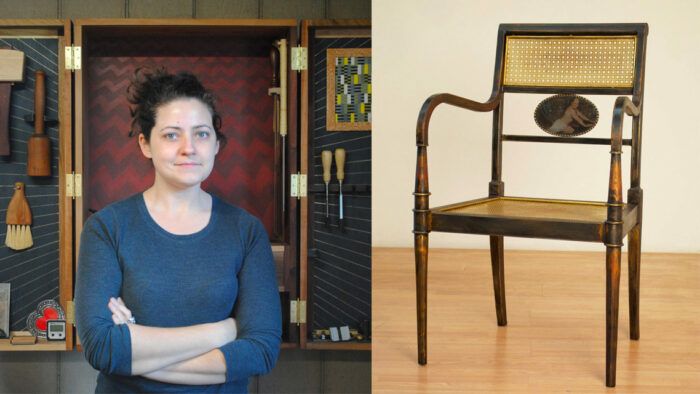 Innovative young furniture artist awarded Mineck Fellowship
Boston, MA – Boston's Society of Arts + Crafts announced today that furniture maker, metalworker, and woodworker Sophie Glenn is the 2022 recipient of the John D. Mineck Fellowship, a high-profile award with an unrestricted $25,000 prize given annually to an early-career furniture artist.
Sophie was born and raised in New York City, earned a Bachelor of Fine Arts degree in Sculpture and Drawing from Purchase College/State University of New York and a Master of Fine Arts in Furniture Design and Woodworking at San Diego State University.
Her deceptively modern pieces utilize traditional designs transformed by innovative fabrication processes – with steel standing in for wood. "I have always been fascinated with trying to harmoniously combine wood and steel in furniture," Glenn says, "but often the two materials would compete instead of complement each other. Ultimately I eliminated wood entirely to create a series of classic furniture designs from rusted steel."
---
Successful seating at Messler Gallery
Rockport, ME ­­– "Successful Seating," an international survey of outstanding wood chair designs, will be on display at the Messler Gallery of the Center for Furniture Craftsmanship, in Rockport, Maine, from Sept. 16, 2022, through Jan. 7, 2023. The public is cordially invited to the opening on Thursday, Sept. 22, from 5 to 7 p.m.
The show's curator is Peter Korn, who founded the center and has been an impassioned chairmaker for almost 50 years. It presents 16 chairs by 14 designers from seven countries, all of which are in production. These range from classics such as Michael Thonet's #14 (first introduced in 1859) and Hans Wegner's Wishbone Chair (1949), to recent introductions such as Ronan and Erwan Bouroullec's Osso Chair (2019) and Jasper Morrison's Iso-Lounge (2021).
"It is beyond challenging to come up with a chair that succeeds on all levels. Inevitably, there are trade-offs between comfort, beauty, strength, durability, portability, and affordability," says Korn. "These chairs show what great design looks like when it needs to be commercially viable."
The chairs in "Successful Seating" include Hans Sandgren Jakobsen's Elegance for manufacturer Asahi Wood, Jakob Berg's Oslo stackable for Brayton, David Ericsson's Petite and Madonna for Gärsnäs, Folke Pälsson's J77 for Hay, Simon Pengelly's Theo for New Design Group, Barber & Osgerby's Ballot and Shell for Isokon Plus, Jasper Morrison's Iso-Lounge for Isokon Plus, Ronan and Erwan Bouroullec's Osso for Mattiazzi, Tom Moser's Continuous Arm for Thos. Moser, and Michael Thonet's No. 14 café chair, manufactured by TON. In addition, there are four classics from retailer Design Within Reach: Charles and Ray Eames's DCM; Gio Ponti's Leggera; Niels Otto Moller's Model 78; and Hans Wegner's Wishbone.
---
New tool alert from Woodpeckers
Strongsville, OH – Woodpeckers' in-DEXABLE Combination Square took the woodworking world by storm a couple years ago. Now they're rounding out the system with the new Protractor Head and Centering Head. The in-DEXABLE system takes the basic 140-year old combination square design and kicks it up a notch by adding parallel scribing guides along the blade. To make those scribing guides work, you can lock the heads to the blade precisely at any full-inch mark along the blade (or every 30mm on the metric version). The same indexing system works with the original Combination and Double Square heads and the new Protractor and Centering Heads.
Take advantage of this product's special pre-production pricing for a limited time. Order now to be among the first to own these impressive new designs. The introductory sale ends Monday, Oct. 3, 2022. Delivery is scheduled for February 2023.
---
New products launch from Makita
La Mirada, CA – Makita U.S.A., Inc., manufacturer of high-quality professional tools and accessories, is introducing the new 18V LXT® Brushless Jig Saw (XVJ04Z). The XVJ04Z is engineered to deliver the power and performance of a corded jigsaw, but without the hassles of a cord. It is ideal for professional woodworkers, cabinetry makers, specialized residential construction workers, and any pro-contractor seeking a best-in-class cordless jigsaw.
"The new 18V LXT® Lithium-Ion Brushless Cordless Jig Saw is part of the expanding lineup of cordless woodworking tools," Said Rudy Jansen, product marketing manager, residential construction. "It is both lightweight and compact, offers orbital cutting settings, and has a Makita-built brushless motor that offers faster cutting speeds."
---
If you have a tool release or news item you'd like considered for our weekly roundup of woodworking news send it to [email protected].