Using an Oscillating Spindle Sander
For smoothing inside curves, these machines give long abrasive life and a better finish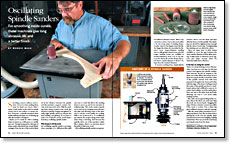 Synopsis: A spindle-mounted drum sander takes the pain out of cleaning up after the bandsaw and jigsaw. Bernie Maas explains the benefits of using a benchtop oscillating spindle sander for sanding interior curves. He explains how a spindle sander works and diagrams its anatomy. Among his findings, Maas says look for a model with a table insert to help support stock, and look for under-the-table dust collection for superior dust collection. Last, Maas offers tips on using the sander.
Smoothing concave surfaces can be a chore. If you've tried sanding these areas by hand, you know what I mean. A belt sander works well on outside curves, but it can't follow a concave surface. However, a spindle-mounted drum sander will take the pain out of cleaning up after the bandsaw and jigsaw.
Maybe you've made do with a sanding drum mounted on a drill press or a radialarm saw. Though inexpensive, this type of drum-sander attachment has several disadvantages. First, the size of the work is limited by the distance between the spindle and the machine's support column. Second, stock removal is slow. With the sanding drum always buried in the work, the abrasive is quickly clogged and glazed. Finally, high spindle speed accelerates the heat buildup and glazing. If you have to sand a lot of interior curves, you'll want a benchtop oscillating spindle sander.
Pick drums to fit the work
An oscillating spindle sander is an ingenious marriage of a drill-press-like quill and cam or crank that allows the sanding drum to move up and down and spin simultaneously. This cyclic motion speeds stock removal by bringing more abrasive into play and allowing some of the abrasive to exit the work briefly for cooling. With a rate of about 60 to 75 oscillations per minute, the reciprocating action minimizes deep scratching. And because the spindle sticks out of the machine's table, like a shaper, there's no structure above the table to limit your work.
All oscillating spindle sanders accept several different diameter drums. When I lay out interior curves, I try to size each radius to fit one of my array of sanding drums. Usually, I aim for the largest drum that fits. The bigger the drum, the smoother the finished curve. Larger-diameter sanding sleeves, with greater abrasive area, also last longer. Sanding drums are available in standard diameters, from 1⁄2 in. to 3 in. Because the sleeves fit over the drums, the actual sleeve outside diameter is about 1⁄8 in. larger than the nominal diameter.
From Fine Woodworking #137
For the full article, download the PDF below:
View PDF