Milk Paint
A traditional painted finish that improves with age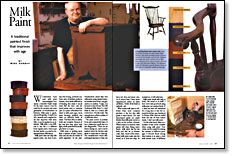 Synopsis: Milk paint is quick, easy, and forgiving. Its finish is rich, lustrous, and complex, and it improves with time. Mike Dunbar explains in this article how it is different from regular paint, how to prepare a surface, how to apply each coat, and how to seal a Milk Paint finish with oil. A mixture of lime, casein, clays, and earth pigments, Milk Paint starts in powder form and is mix with water; there are no fumes and is safe to wash down the drain. Dunbar explores its benefits and limitations.
Woodworkers have used milk paint since antiquity. It remains a desirable finish today for the same reason it was favored by the ancients and every generation of woodworkers in between. Milk paint is quick, easy and forgiving. It results in a rich, lustrous and complex finish that improves with time. Still, it can be applied in a afternoon. Milk…
Start your 14-day FREE trial to continue reading this story.