The Spin on Random Orbit Sanders
Recent innovations improve the machines that revolutionized sanding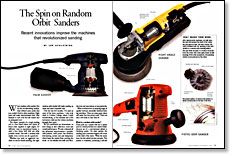 Synopsis: Lon Schleining and his students assessed an assortment of sanders to evaluate dust collection, noise, and overall performance. They looked at the advertised improvements over older models to see whether the features were real innovations or just gimmicks. They found a wide range of quality between essentially identical-looking machines. They graded palm, air-powered, pistol-grip, and right-angle sanders. Schleining starts the article by defining a random-orbit sander, explaining what makes them work, and what to look for. The article details vacuum systems and offers advice on what sander to buy.
When random-orbit sanders first hit the woodworking market, they offered some perks that you couldn't find in other machines. Eight years and many improvements later, they threaten to turn even the belt sander into an antiquated tool.
The classic example of a tough sanding job is a face frame where two pieces of wood come together at right angles. It's difficult, even in experienced hands, to sand a face frame well with any other portable sander. But with a random-orbit sander, even a novice can do a good job.
Whether you need an aggressive machine or one for finish-sanding, the right random-orbit sander will make sanding an easier and more enjoyable task.
Over the last few months, I've used an array of the latest machines. I also took them to Cerritos College, where I teach woodworking, so the students and a few instructors could put the various machines through their paces.
We all contributed our observations on such things as dust collection, noise and overall performance. We also evaluated all the advertised improvements—variableorbit patterns, more power, less vibration, slow-starting motors and pad dampeners, which keep the sander from scarring the work—to see whether the bells and whistles were real innovations or just gimmicks.
What we found was an amazing range of quality between essentially identical looking machines. There are some great values and some fine but pricey tools. There are also a few duds to steer clear of.
What is a random-orbit sander?
If you pick up a sander that has a square pad or a round pad that you cannot rotate, chances are it's a conventional orbital or finishing sander. On these sanders, the sanding pad is mounted slightly off-center on the shaft of the motor. When the motor runs, the disc orbits but does not spin. This pattern is consistent, producing a tell-tale pattern of identical circular scratches on the surface being worked. A random-orbit sander starts with this same orbit mechanism but houses the pad on ball bearings so that the pad also spins. This is how the random pattern is achieved.
Think of someone using a Hula Hoop. The person's hips are orbiting their body in a circular pattern like the pad on a conventional orbital sander. The Hula Hoop itself is like the pad on a random-orbit sander—it's being propelled by the regular motion of the person's hips, but the hoop is also spinning in a random pattern like the pad on a random-orbit sander.
With the pad both spinning and orbiting, the scratch pattern on the surface of the work is more random and less repetitious—almost imperceptible. Because of the sanding pad's unique motion, you don't have to worry about the grain orientation.
From Fine Woodworking #132
For the full article, download the PDF below:
View PDF