Safe Procedures at the Tablesaw
Guidelines for preventing problems before they happen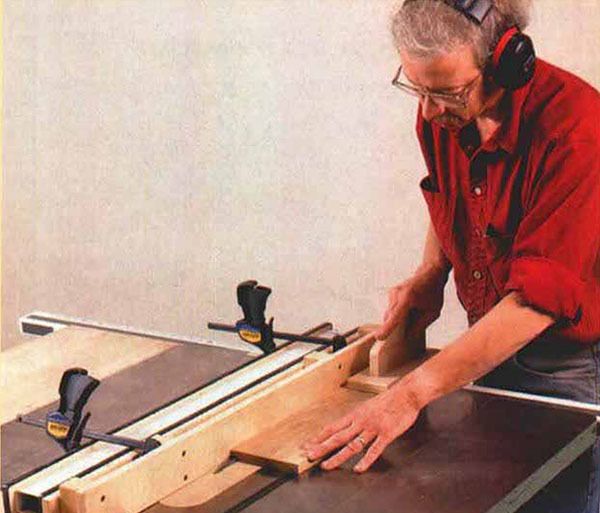 Howard Lewin tries to arm himself with knowledge of what a tablesaw is likely to do and then stop it before it happens. Here, he discusses kickback, splitters, blade guards, zero-clearance tablesaw inserts, featherboards, and push sticks. He shares a few rules about safe tablesaw use and illustrates basic setups for safe cutting. There's a guide to shopmade tablesaw accessories, and extensive photos illustrate safe ripping, beveling, crosscutting with miter gauges and rip fences, and cutting of rabbets, grooves, and dadoes.
A tablesaw doesn't have a conscience. It couldn't care less whether or not it cuts off your finger. And it will. If you know this going in, then you can guard against it. What I try to do is arm myself with knowledge of what the machine is likely to do and then stop it before it happens.
Kickback, the main cause of most tablesaw injuries, occurs when the board drifts away from the fence and pushes against the back of the spinning blade. As the teeth come out of the back side of the saw, they will actually lift the board off the table and launch it over the top of the blade. When that happens, the board is propelled with a few horsepower of force behind it.
Splitters are designed to prevent kickback, and they do. Yet they cause a great deal of anxiety to me and most of the woodworkers I know. This is probably because the splitters that are readily available in the United States aren't quite up to par. For a splitter to do its job, it has to be the exact width of the blade. If the splitter is narrower than the blade, then it allows room for the board to slide away from the fence. If it is thicker than the blade, it forces the stock into the front of the blade and jams the board.
European splitters, like those on Inca tablesaws, attach directly behind the blade and are curved to follow the blade's arc. The splitter adjusts and travels with the blade, allowing dado and bevel cuts. It is useful, and it works. The splitters on most American saws have to be removed to make these cuts. Often they are not replaced.
As for blade guards, they work fine, except when you really need them. When you are cutting plywood or long boards with wide dimensions, your hand is nowhere near the blade; therefore, it's pretty safe. It's when you have to do detail work close to the blade that you need a blade guard but can't use one.
Though splitters and blade guards should work better and should be more widely used, I see little use in pretending that they are.
What is imperative is that you take the necessary measures to ensure safety at the tablesaw. I always use zero-clearance tablesaw inserts, featherboards and push sticks. I keep a well-tuned saw, and I let a few rules guide my work.
• Never stand directly behind the sawblade.
• Make sure the blade is never more than in. above the board being cut.
• Be aware of what the wood is doing at all times. And be ready to react.
• Never back a board out of a cut.
From Fine Woodworking #132
For the full article, download the PDF below:
View PDF