Sticking with Hide Glue
This stuff does some things modern adhesives can't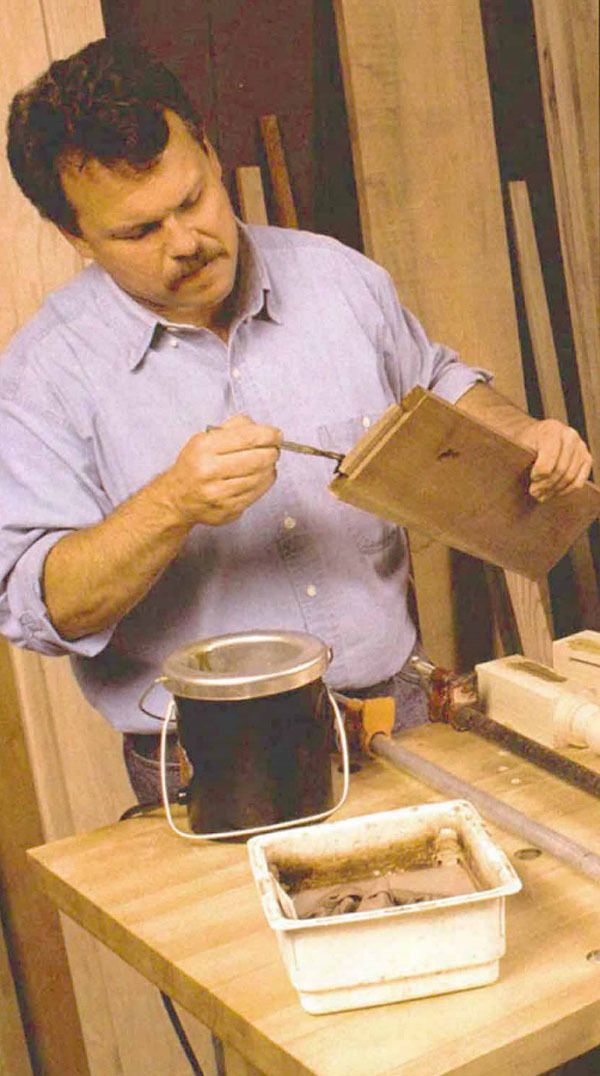 Synopsis: Hide glue has advantages over other adhesives, regardless of its stink and other negative qualities. Once cured, it's more heat-resistant than other common woodworking glues, and it's far less likely to creep or move with seasonal changes. In this article, Nick Engler spells out how to handle premixed hide glue and how to mix up a batch yourself in a glue pot, how to use hide glue properly, and how to do hammer veneering with hide glue (you won't need a veneer press).
From Fine Woodworking #129
Let's start with what most woodworkers know about hide glue: It's yucky. It smells bad. It's not as strong or as stable as other glues. And it's old stuff, which can't compare with the new stuff.
Well, some of that is true. I'll give you the yuck and most of the stink. But hide glue is every bit as strong as other glues and very durable. And because of a few unique properties, hide glue has some advantages over other adhesives. Once cured, it's more heat-resistant than other common woodworking glues, and it's far less likely to creep or move with seasonal changes.
Researchers at the Franklin glue company (the Titebond people) glued blocks, of hard maple together using different adhesives, then broke them apart using a machine to test the shear strength of the glue joint. Hide glue, they found, fails at about 3,600 lb. per square inch (psi)—a respectable showing.
By contrast, their newest (and more expensive) polyurethane glue let go at 3,500 psi. And as far as durability is concerned, Egyptian furniture from 2,700 B.C. was discovered with still-stuck hide-glue joints. "Protein-based glues, such as hide glue, are incredibly stable," says Dale Zimmerman, a Franklin scientist. "We have hundreds of years of history to back that up."
About the only thing that can undo a hide-glue joint (besides 3,600 psi) is water, making hide glue the only easily reversible adhesive on the market. Hide glue is hygroscopic, meaning it sucks up any available moisture. As it does so, it dissolves itself. This isn't a problem in most climates. A good coat of finish is more than enough to protect hide-glue joints from a few humid days.
Because hide glue is reversible, it's still the only glue used for restoring valuable antiques and for making musical instruments. And for veneering, you can't beat it—especially if you don't own a veneer press or you've suffered the indignities of using contact cement. Two other hide-glue advantages: It's less likely to interfere with finishes, and any delamination is easy to repair.
Hide glue is made from animal gelatin, the visceral protein that binds skin, muscles and bones. Manufacturers scrape it from the inside of hides, boil it from bones, dry the gelatin and then break it into granules. These granules must be softened in water and cooked, but not boiled (see the photos at left).
Cold or premixed liquid hide glue, now sold in bottles, is made the same way at the factory. But manufacturers add more water and chemicals to keep it from coagulating as it cools. Liquid hide glue can be stored and applied at room temperature, like other common glues. It has a longer working time, or open assembly time, of 15 to 30 minutes. This property makes it useful for biscuit joinery and mortise-and-tenon assembly.
For the full article, download the PDF below.
View PDF