Build a Wall Shelf
A simple piece with sliding dovetails is a good excuse to make a versatile router jig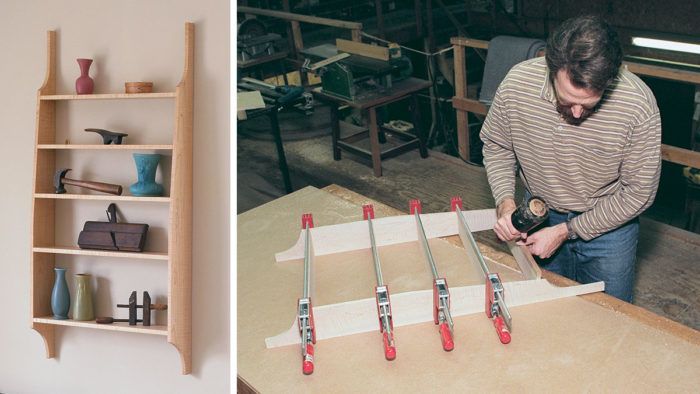 Synopsis: Peter Turner's peg-hung wall shelf with curved rails on top and bottom is based on a Shaker example. This piece is easy to build quickly, but consistency is the key. The trickiest parts are the sliding dovetails that support the shelving; routing the grooves is easy, but the long tails on the ends of each shelf take some practice. The article shows step by step how the author builds the shelf and includes drawings of the design. A horizontal dovetailing fixture makes a difficult joint easy.
My wife, Colleen, occasionally asks me to build a piece of furniture for our home. I would love nothing more than to honor these requests, but there never seems to be time. But a hanging shelf is one project that I figured I could finish quickly.
I got the inspiration from a drawing of a peg-hung Shaker shelf in Ejner Handberg's book, Shop Drawings of Shaker Furniture and Woodenware, Vol II (Berkshire Traveller Press, 1975). The shelf sides in Handberg's drawing are curved on top, but the bottom is straight. I added another curve at the bottom, experimenting with different curves until one satisfied my eye.
Handberg's Shaker shelves also hung from a wall-mounted peg rail. I don't have a peg rail at home, so the first time I made this piece, I used brass keyhole hangers. In later versions, I used simpler brass hangers mortised into the second shelf from the top. These are less expensive, easier to install and make hanging the shelf a snap.
We use one hanging shelf as a spice rack. The varying heights and sizes of our spice jars helped establish the shelf spacing and overall width.
Consistency is the key to this piece. If you start with flat stock of uniform thickness and length, the joinery follows smoothly. To ensure consistency, do all your milling at once (all the stock is 1⁄2 in. thick), and use a plywood pattern and flush-trimming router bit for making identical curved and tapered sides.
The trickiest parts of this piece are the sliding dovetails. Routing the grooves is easy, but the long tails on the ends of each shelf take some patience and finesse. I use a router setup in which the router is mounted horizontally; it seems to make it easier to get a straight, even cut.
By holding the pieces flat on the router table, I have more control as I slide the piece past the bit. I make test pieces out of scrap, which I milled at the same time as the final pieces.
The Shakers housed the shelves in dadoes, rather than sliding dovetails, and you can do the same. It won't be as strong, but if you're worried about the shelves, you can toe-nail them from the bottom with finish nails or brads.
From Fine Woodworking #129
For the full article, download the PDF below.
View PDF