Making Music with a Plane
A celebrated craftsman explains his devotion to an indispensable cabinetmaking tool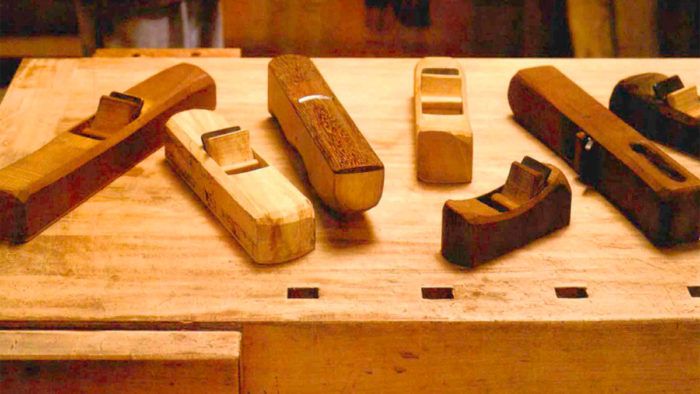 Synopsis: Don't just be a woodworker; make something more out of it, if your heart's in it, writes James Krenov. This short article is more philosophy than how-to, a soul-searcher that grapples with the question "Why to bother to work wood?". Planes are the symbol of his theory, and he describes the process of making them without worrying why they work well until after they're complete; the engineer and the peasant reach a parting of the ways, and that is true throughout the craft. Woodworking requires accuracy, but he extols the virtues of remaining flexible. When he discovered joy in making planes, he realized that a tool can be improved, and it is a personal and intimate thing. Find a balance between the time you work and the time you take care of your tools — don't let one overtake the other. Don't let fussing take over. Just think of what the tool will do and what you can do with it.
---
When I was in school in Sweden, we had regular European planes that had to be held in a certain way. For some reason, curiosity or whatever, I made a little wooden plane out of maple. Suddenly, my friends are gathered around, and we're making shavings. I realized the versatility of that little block of wood. It was comfortable with two hands on it. It was comfortable with one hand doing a tiny little edge or corner. It had a new dimension because it did not force me to relate to it very rigidly in one certain way.
I don't think that you can prove in a court of law that these little wooden planes make thinner or better shavings than any other plane. I think the emotional element is the main difference, not necessarily performance only. It's a connection, an intimacy. The really good plane becomes an instrument. It becomes something that you want to make music with.
I used to make planes as a kind of therapy. Between jobs, I couldn't be idle and sit around. I'd finish a piece and have time to catch my breath, so I'd make a couple of planes. Some I'd give away: I've never sold one, and I never will.
There's no magic in any tool until you put the magic in it. The magic doesn't come with the tool. There's no one plane that will do everything. Mine go from jointer size down to very small. My favorite one is the little cocobolo one pictured in A Cabinetmaker's Notebook. It was my favorite, and I gave it away to someone very nice. I don't have a sentimental attachment to the planes anymore. I just want the ones I have to work well for me, and it doesn't matter which one it is; they are all good.
Don't be a slave to accuracy
You come to a point where you can either engineer a plane or follow your common sense logic and feelings about it and arrive at about the same point. I make a good plane and then somebody else comes along and tells me it's a good plane because this angle is like this, and this thing is like that, and you've got the wedge this way, and you've got the opening like that. And I say, "Oh, is that what makes it good? I didn't worry about that. I just made it."
So somewhere the engineer and the peasant reach a parting of the ways, which is true throughout the craft. You can get so exact that you immobilize yourself with accuracy. I joke about it. You buy this square, and you pay $400 for it and it's accurate to a 10,000th of an inch.
Can you get results that are good with a metal plane? I think so, yes, and I've seen it. We've never said to our students here, "Put that thing away." As long as it's working well for them, and it's tuned up properly, and it's kept in perfect shape, and they do beautiful work. I would never want anyone to quote Jim Krenov as saying that you have to have a wooden plane. It's nice if you like them, but there isn't only one way.
To view the entire article, please click the View PDF button below:
View PDF